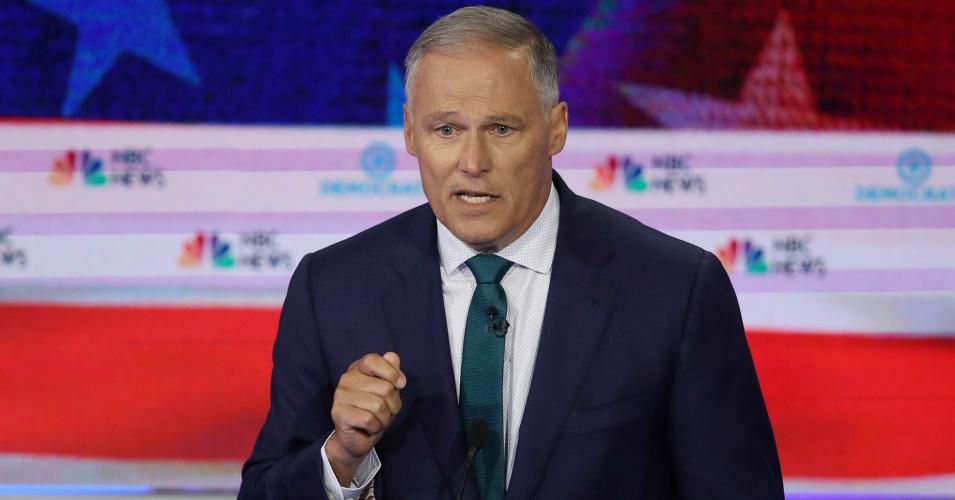 I know that
I promised
three
Vtimes
to update
On The Issues shows most of the Democratic candidates have moved left during the campaign, too
, the last time writing "I've already collected the data. I just need to sort it, write the post, and create the memes. The entry should be ready tomorrow," meaning today. While I've sorted the data, I'm not going to complete the rest today because of two breaking stories. The first is
Jay Inslee
dropping out last night. CBS News has a report in
Governor Jay Inslee drops out of 2020 presidential race
.
Washington Governor Jay Inslee, who made fighting climate change the central theme of his presidential campaign, announced Wednesday night that he is ending his bid for the 2020 Democratic nomination. Inslee announced his decision on MSNBC.
NBC News has the clip of Inslee on Maddow's show
along with his plans for next year.
"It's become clear that I'm not going to be carrying the ball. I'm not going to be the president, so I'm withdrawing tonight from the race," he told Maddow, vowing he'd help keep the other 2020 candidates focused on issue of climate change, the centerpiece of his campaign. "I've been fighting climate change for 25 years, and I've never been so confident of the ability of America now to reach critical mass to move the ball."

Inslee sent an email to supporters on Thursday announcing that he will run for a third term as governor instead.

"I want to continue to stand with you in opposing Donald Trump and rejecting his hurtful and divisive agenda, while strengthening and enhancing Washington state's role as a progressive beacon for the nation," he wrote.
I wish I could say I was surprised.
When Inslee announced, I wrote
that he had a "slim chance" and "I wish him good luck; he'll need it." For what it's worth, the reporters and editors at FiveThirtyEight aren't either, as
Inslee was the fifth candidate picked in their first 2020 drop out draft
. Two down, seven to go.
Speaking of which, the first candidate picked,
John Hickenlooper
, announced that he was running for U.S. Senate. That's the other breaking story that I plan on writing about today. Stay tuned, but follow over the jump first for the recipe and memes for Inslee I'm retiring now that he's out of the race.
First, the drink I recommended for Inslee in
Drinks for the Democratic debates, Part 1
.
Jay Inslee's favorite comfort food is M&M's, so my suggestion is M&M Shooters from Tipsy Bartender.
Next, the infographic showing Jay Inslee's ideological position from
OnTheIssues.org's take on the Democratic presidential candidates from left to center
.
Finally, the infographic showing Inslee's position from
On The Issues shows most of the Democratic candidates have moved left during the campaign, too
.
This one may not be completely retired, as Inslee did move to the left at
On The Issues
since July. While I might be a good environmentalist and recycle it one last time, the scores for
Cory Booker
and
Beto O'Rourke
have also changed, so they may not be near enough Inslee's position to reuse the meme. As I wrote above, stay tuned.