"Stay tuned for
a drinking game, memes, and drinks
for this year's
Vice Presidential Debate
between
Kamala Harris
and
Mike Pence
," I repeated in
'Why We Hate,' 'Cosmos,' 'Seven Worlds, One Planet' and 'Life Below Zero' — science and nature winners at the Creative Arts Emmy Awards
, so it's time to follow through.
I begin by recycling the version of the drinking game I posted on Coffee Party USA's blog as
Coffee Party USA celebrates National Coffee Day with a drinking game for the 2020 Presidential Debates
.
As an entertainment service to my readers, I'm sharing
This Bipartisan Drinking Game Will Help You Survive Tonight's Presidential Debate
from Delish.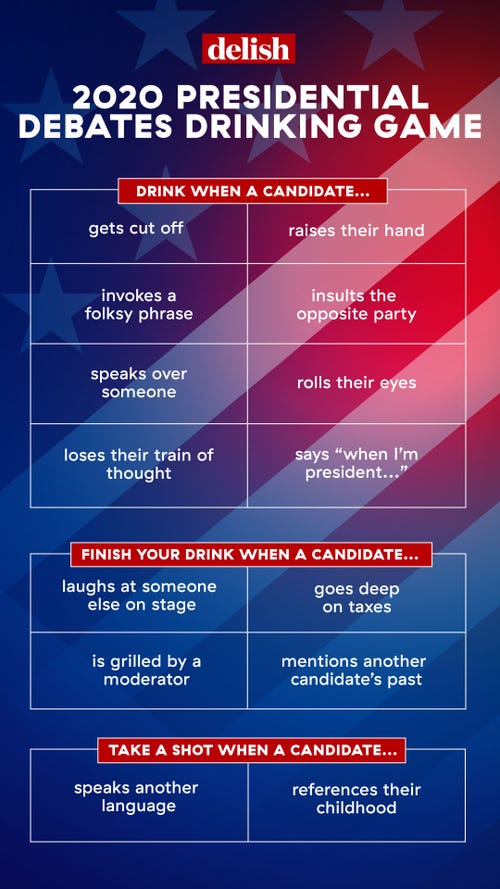 Enter: our entirely bipartisan drinking game. It includes items that happen again and again in debates and are often super cringey. Yes, the candidates are all fighting to talk, but do they have to bicker like that? And must they recount so many long, open-ended, irrelevant stories from their youths!? You get it.

Again, we kept this game extremely bipartisan, but if you'd like to add some items for things that really grate you—like Senator X's habit of gesticulating wildly or Congresswoman Y's tendency to bring the discussion back to the old days—that's your prerogative. It's your living room! Drink up!

Drink when a candidate:

Gets cut off
Raises their hand
Invokes a folksy phrase
Insults the opposite party
Speaks over someone
Rolls their eyes
Loses their train of thought
Says "when I'm President"

Finish your drink when a candidate:

Laughs at someone else onstage
Goes deep on taxes
Is grilled by a moderator
Mentions their opponent's past

Take a shot when a candidate:

Speaks another language
References their childhood
This should be generic enough for anyone reading who is watching the debate. In fact, it's generic enough that it can be used for any political debate this season, regardless of office, from President down to county commission or even city council if it has partisan candidates. I'm an environmentalist, so I like to reuse and recycle. I also like to reduce, so I'm not proposing another drinking game, at least not today.
Now that we have the drinking game, it's time for the drinks. Follow over the jump for drink suggestions for the candidates.
Since Pence is the sitting Vice President, he goes first with the surviving drinks from
Drinking games and drinks for the Vice Presidential Debate
from 2016.
Here are the three recipes I found for Pence, all of which honor Indiana. I begin with
Spoon University's choice, the Jaegerbomb
.
Jägermeister is one of the most purchased alcohols in Indiana, so you can't go wrong with a Jägerbomb. These shots are fun to take, but don't drink too many of them. Take it from the Hoosiers (and not just IU students) who have mastered the art of jägerbombs.
Grub Street came up with a more sophisticated drink, the
North Shore Flower
.
The key here is tracking down the specific gin, which is made in Illinois, about an hour north of Chicago: In a shaker, combine 2 ounces North Shore Gin Number 6, 1 1/4 ounce Chase elderflower liqueur, 3/4 ounce lemon juice, and 1/2 ounce gum syrup (the bar uses Wilks & Wilson). Shake with ice and strain into a chilled martini glass. Garnish with a lemon twist.
Indiana is the home of the Indianapolis 500, which has inspired
its share of cocktails
. Any of the ten at the link would be a good choice, but the one that I found appropriate is the Refined Janet Guthrie.
Inspiration: 1977 is the first time a woman qualified for and raced in the Indy 500. This cocktail was inspired by Janet Guthrie who was the first female driver to qualify and race in the Indy 500.
Recipe: 1 part Sweet Tea vodka, 1.5 part Refine Mixers margarita mix, pour over ice, garnish with fresh sprig of mint.
As I wrote four years ago, the smashing of one glass ceiling deserves a drink honoring the smashing of another. In this case, I am referring to the nomination of Kamala Harris, who comes next.
Now for the drinks from
New ideological position graphs and drinks for Kamala Harris, the Democrats' Vice Presidential nominee
.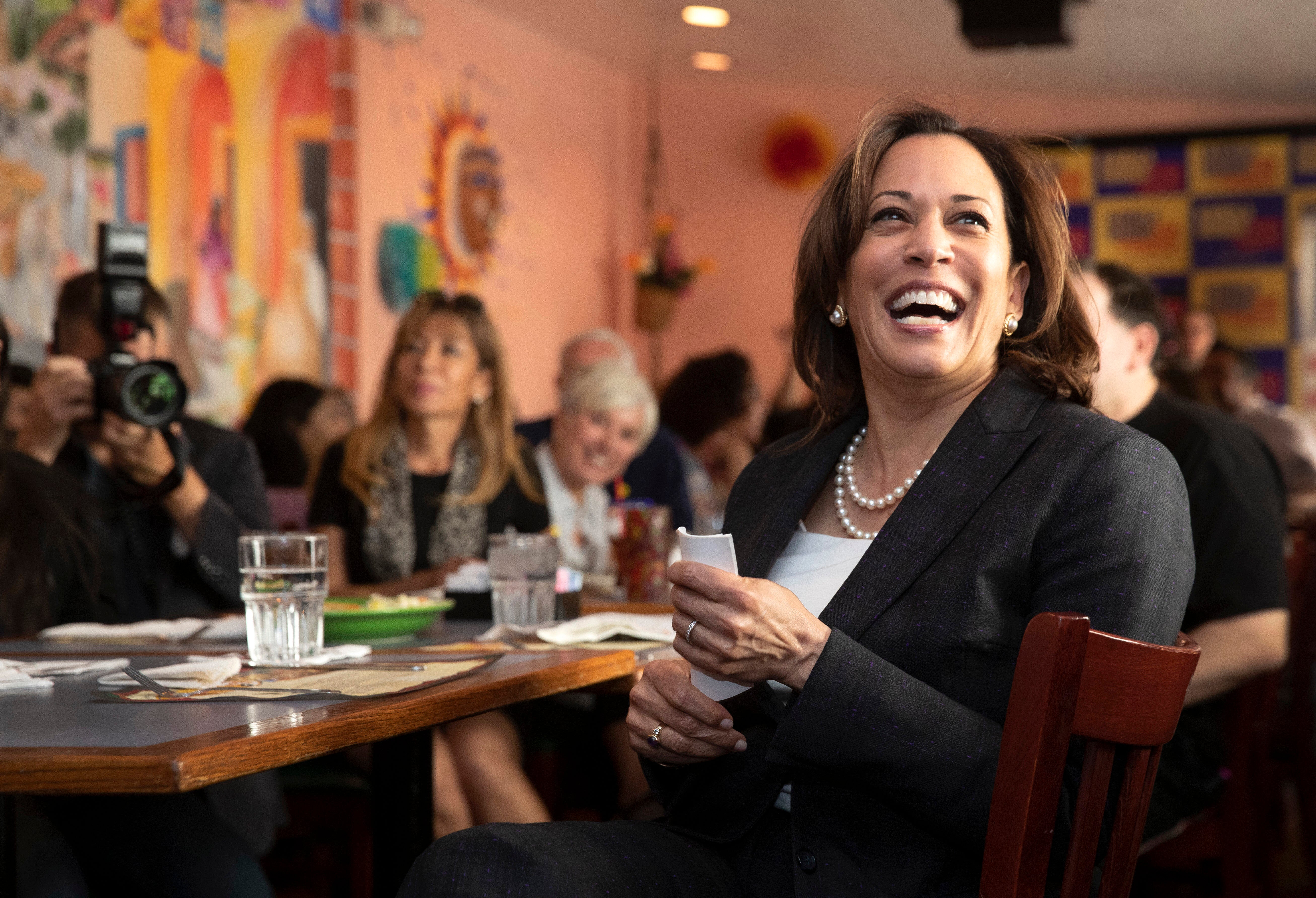 "I'm just waiting for Biden to choose to select the beverages for his running mate," I wrote on
this year's Veep Day
. I begin by recycling what I wrote for Harris in June 2019's
Drinks for the Democratic debates, Part 2
.
While Kamala Harris told Eater her favorite comfort food is french fries, U.S. News and World Report mentioned that her favorite restaurants are Amber India and Dosa in San Francisco. I couldn't find any alcoholic beverages on Dosa's menu, but Amber India's bar menu has some really interesting cocktails. Unfortunately, they're all unique, although one, the Pink Elephant, has several variants out in the wild. Any one of them will do.
Here's
Sandra Lee - Pink Elephant Cocktail
.
Originally aired as part of the "Cottage Chic" episode (Episode SH0807H) on the Food Network, June 16th, 2007.

Ingredients
• 1 part white cranberry juice
• 1 part berry vodka
• 1/2 part raspberry liqueur (recommended: Chambord)
• 1/2 part Limoncello
Directions
To a shaker full of ice, add all ingredients. Shake well and pour into chilled martini glasses.
I used this because it's a video featuring the former First Lady of New York State. Her ex-boyfriend, Governor Andrew Cuomo, is a Democrat.
Now for the cocktail I actually featured more than a year ago: "That written, Harris is from Oakland, California, and the most famous drink to come out of there is the Mai Tai from the original Trader Vic's." I embedded a
Tipsy Bartender
video for the recipe, but Skyy John has since taken it down. He uploaded
a new video
for the drink, but I don't think it has as much personality as
How To Drink's recipe
, so I'm using it instead.
In this episode of How to Drink, I'm making one of my favorite cocktails: the Mai Tai. The Mai Tai may be the pinnacle of Tiki glory and made the way Vic Bergeron invented it in 1944 with a balanced, spirit forward, glass of pure magic. Next time you find yourself at a Tiki Bar, or hosting a Tiki party make sure you have yourself a Mai Tai. You won't regret it. Cheers!
...
Mai Tai Ingredients:
- 1 oz or 30 ml of Jamaican Rum
- 1 oz or 30 ml of Rhum Agricole
- .5 oz or 15 ml of Dry Curaçao
- .5 oz or 15 ml of Orgeat
- .25 oz or 7 ml of Rock Candy Syrup
- 1 oz or 30 ml of Lime Juice
- Shake
- Serve over Crushed Ice
- Garnish with a Sprig of Mint
Now for a completely new drink suggestion inspired by Harris's Jamaican ancestry on her father's side. Out of all of Tipsy Bartender's
Jamaican recipes
, I've chosen the most recent,
Jamaican Me Happy Punch
.
What?! The mixer in this punch is Seagram's Escapes! Jamaican me thirsty!!

HERE'S THE RECIPE:
Rum
Strawberry Pucker
Seagram's Escapes Jamaican Me Happy
Lemon-Lime Soda
Watermelon
Strawberries
Lemons
And there you have it!
Have fun at tonight's debate and drink responsibly.
I close with this thought from
VP Debates Usually Don't Matter. But We're Way Past Usual
at FiveThirtyEight.
Tonight is Pence's chance. I wish him luck, even though I am rooting for Harris.