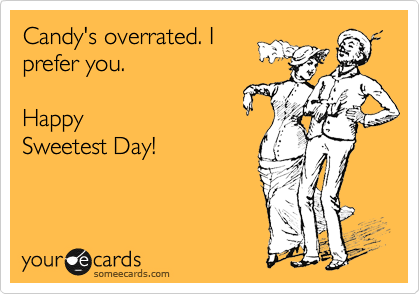 Happy
Sweetest
Day
! To celebrate
a very popular
holiday here at Crazy Eddie's Motie News
, I'm sharing three videos, beginning with
Sweetest Day 2020: the history of the day and how Northeast Ohio is celebrating
from WKYC Channel 3 in Cleveland, Ohio.
Did you know that the holiday started in Cleveland? Sweetest Day has Northeast Ohio roots going back to the 1920s!
While this version of the holiday's origin favors Cleveland over Detroit, it accords with the one in
Wikipedia
.
The first Sweetest Day was on October 10, 1921, in Cleveland. The Cleveland Plain Dealer's edition of October 8, 1922, which chronicles the first Sweetest Day in Cleveland, states that the first Sweetest Day was planned by a committee of 12 confectioners chaired by candymaker C. C. Hartzell. The Sweetest Day in the Year Committee distributed over 20,000 boxes of candy to "newsboys, orphans, old folks, and the poor" in Cleveland, Ohio.[4] The Sweetest Day in the Year Committee was assisted in the distribution of candy by some of the biggest movie stars of the day including Theda Bara and Ann Pennington.
However, it's in conflict with the version at
National Day Calendar
, which favors Detroit, which I quoted in
Happy Sweetest Day 2017!
National Sweetest Day found its beginnings in a holiday founded by the National Confectioners' Association in 1916 called Candy Day. On October 14, 1916, candy shops around the country filled newspapers announcing their sweetest treats and delights. Originally designated to be celebrated the second Saturday of every October, the confectioners' convention in Detroit in May of 1916 made the final resolution. Walter C. Hughes, the secretary of the National Confectioners' Association, encouraged Americans to patronizes (sic) their local candy shops, bakers, and druggist for the highest quality confections.
...
Sweetest Day's theme of charity and giving became apparent in 1921. At the time, four Michigan confectioners united with the Red Cross. Those confectioners included the Detroit Retail Confectioners, Detroit Wholesale Confections Club, Detroit Jobbing Confectioners Association, and the Michigan Confectioners Club. Together, they distributed thousands of bags of candy to hospitals, orphanages, shelters, and homes across Michigan. The celebration also included 100 regulation army target balloons, which dropped coupons worth a box of candy.
I have a feeling that National Day Calendar's history comes from connecting Sweetest Day to Candy Day, which Wikipedia doesn't. However, the online encyclopedia does acknowledge Detroit and Michigan in the following passage.
Retail Confectioners International describes the observance as "much more important for candymakers in some regions than in others (Detroit and Cleveland being the biggest Sweetest Day cities)".[9] The popularity in Detroit was greatly perpetuated by the Sanders Candy Company. Frederick Sanders of Detroit was a large promoter of the holiday.
Both WKYC and Wikipedia also conforms to the origin of the holiday described in The History of Sweetest Day video I embedded in 2015's
Happy Sweetest Day!
Now I'm torn. On the one hand, as someone who has adopted Michigan as his home state, I prefer the National Day Calendar version with its older Michigan roots. On the other, Wikipedia is better known, more respected, and usually better researched.* If I were a historian of holidays instead of a paleontologist, a scientific historian of ancient life, I might try to resolve the conflict between the two accounts. Instead, I'll be lazy and hope someone else does it for me. Anyone, anyone, Bueller, anyone?
Follow over the jump for a song to play with your loved one and something to drink while listening to it.
I'm adding a drink to celebrate this holiday, just like I've done with other
holidays
but not Sweetest Day until now. Of course, it comes from
Tipsy Bartender
, the
Classic Mimosa
.


The classic mimosa is the perfect drink to pair at brunch!
I close with another video featuring the song I associate with this holiday,
Sweetest Day by Control Freq
, a tradition on this blog.
Once again, Happy Sweetest Day!
*Usually, but not always. Ten years ago, I noticed an error Wikipedia made about fellow UCLA alum and former Miss USA Julie Hayek, listing her as Lebanese-American when I knew that her father's family came from what is now the Czech Republic. I reposted the LiveJournal entry I wrote about that as a footnote to
Miss Michigan on diversity and #BeingAmerican
. Wikipedia has become much more reliable since then.