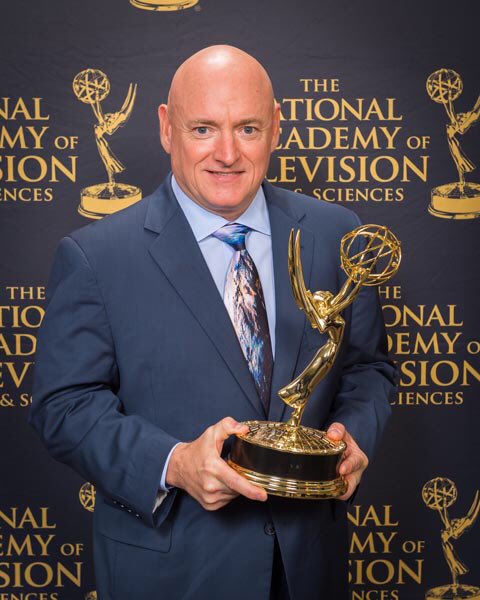 I will return to the winners of the News and Documentary Emmy Awards next week after I wish my readers a Happy Wester tomorrow. Stay tuned.
That was my promise at the end of
'Nature: Super Hummingbirds' wins Outstanding Cinematography: Documentary
. I had to delay fulfilling it because I forgot yesterday was
Canadian Thanksgiving, Leif Erikson Day, and Native American Day
. So, here I am, a day late. It's not as if this hasn't happened before.
To make up for it, I'm featuring three Emmy winners about space, beginning with the documentary that headlined
Space, Ebola, volcanoes, stroke, and human expansion the topics of Science and Technology Documentary nominees
, "A Year in Space." From the National Television Academy, here is
Clarissa Ward presenting the Emmy for Outstanding Science & Technology Documentary
.
I am glad they brought Scott Kelly up there. Most of the acceptance speeches have the crew up there, not the stars. Kelly is the star of this show and he deserved the recognition. Also, I'm glad this show won; it's the nominee that was most about science and technology. I was afraid the star power of Werner Herzog and David Lynch would drive their projects to victory instead.
Follow over the jump for the other two winners.
The next winner is "Stephen Hawking's Favorite Places," which I included in
'Sonic Sea,' a triple nominee, and its competitors
. Here is
Byron Pitts presenting the award for Outstanding Graphic Design Art Direction
. Pitts also presented the award for Outstanding Nature Documentary.
This is one of the few awards that I called in advance, writing "If this category is considered to be special effects for documentaries, then this show might just be the favorite." It was, enough so that it beat "
Sonic Sea
."
The last winner is another competitor for "Sonic Sea," "Challenger Disaster: Lost Tapes," which won in a category that I missed, Outstanding Research. Watch
Katty Kay present the award
.
If I had caught this nomination, I would have rooted for it to win, but not thought that it would, as it was competing against 60 Minutes' "White Helmets," which had multiple nominations and won two Emmys. I'm glad I was wrong about its chances.
Congratulations to all the winners. I plan on returning with the winner of
"Body Team 12" and other science, health, and environment winners
the rest of the week. Stay tuned.