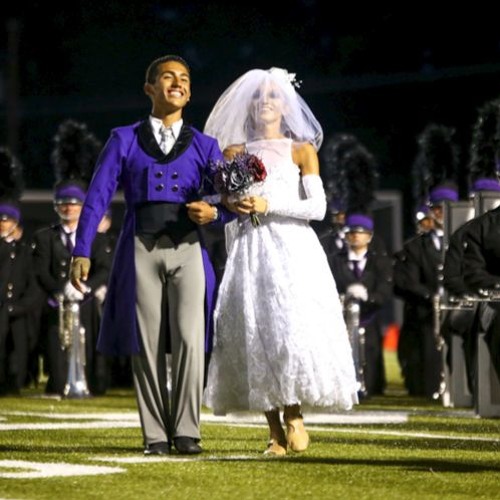 Happy
Halloween
!
Last year
,
I asked my readers
there "which angle I should use for Halloween, drinks or drum corps." They unanimously voted for drinks. This year, I didn't bother to ask and decided to do both. So in the spirt of
Drink to a late drum corps Earth Day
, I present a post about booze and bugles.
This year's featured corps is The Academy, which made DCI Finals in 2016 with "
Drum Corpse Bride
."*


Tempe, AZ - 11th Place 86.100
For more of the show, here's a high camera smartphone video:
The Academy 2016 Semifinals Highlights
.
Took some footage from The Academy's semifinals run and put it together! The Academy is a drum and bugle corps based out of Tempe, Arizona. They are presenting their show "Drum Corps Bride". The Academy advanced to Finals for the first time in the corps history with a score of 87.225. For more information about The Academy or information on how to audition you can find it on their website here: https://arizonaacademy.org/programs/t... Most of the footage is focused on the guard. I was mainly trying to record my girlfriend who is part of the guard so some other moments might have been missed.
Follow over the jump for Halloween drinks from Tipsy Bartender to toast the bride and groom.
The first drink is
Hocus Pocus
.
Here's the recipe: HOCUS POCUS 6 oz. (180ml) Vodka 8 oz. (240ml) Melon Liqueur 1 oz. (30ml) Blue Curacao 12 oz. (360ml) Sweet & Sour 6 oz. (180ml) Pineapple Juice Dry Ice PREPARATION 1. Drop dry ice into base of glass and pour over vodka, sweet and sour and pineapple juice. 2. Add melon liqueur and blue curaçao. Enjoy very responsibly!
My readers can also pair this up with "I Put a Spell on You" in
Broken Peach: Singing Spanish goths and witches for Halloween
, which is from the movie "Hocus Pocus."
For an even more macabre drink, I suggest
The Bone Collector
.
Here's the recipe: THE BONE COLLECTOR (Created by IG: @CocktailsByHawk) 1 1/2 oz. (45ml) Vodka 3/4 oz. (22.5ml) Campari 3/4 oz. (22.5ml) Sweet Vermouth 2 Dashes Apothecary Bitters Garnish: Orange Peel PREPARATION 1. Add vodka, campari, sweet vermouth and bitters to shaking glass. Add ice and roll to combine. 2. Add dry ice to serving glass and pour mix over using a flame to express orange peel at the same time. 3. Rub edge of glass with orange peel and drop into drink. DRINK RESPONSIBLY!
Spooky.
As a scientist, I like the idea of
Test Tube Shots
.
TEST TUBE SHOTS 1 Part Coconut Rum 1 Part Black Vodka 1 Part Fruit Punch Splash Grenadine PREPARATION 1. To an ice filled shaking glass add coconut rum, fruit punch and grenadine. Shake well to combine and chill. 2. Strain mix into test tube before floating a black vodka on top. 3. Serve in a bowl of dry ice. Enjoy responsibly!
Dry ice seems to be the Halloween theme this year. It beats
zombie drinks
and bloody eyeballs!
With that, this party is over. Enjoy what's left of Halloween and stay tuned for the first post of next month, which will be coming in a few hours.
*I mentioned this show in
The Archdruid and I talk drum corps
.
Pinku-Sensei, how fascinating. I know precisely nothing about drum and bugle corps (corpses? How do you pluralize that?) as an art form, and it's intriguing to learn that the same patterns play out there, too.

I thought about the answer, then posted it after a few days.


@JMG: "drum and bugle corps (corpses? How do you pluralize that?)" Both the singular and plural are spelled "corps," but the s is silent in the singular but pronounced in the plural; the word is French and the original rules sort of followed along. Coincidentally enough, a corps played on that very confusion by calling their show "The Drum Corpse Bride." The program could have been very pretentious, but it ended up being a great crowd pleaser.
That was the most postive thing I wrote about drum corps the entire post. I'm not surprised I was inspired enough by the show to use it again.