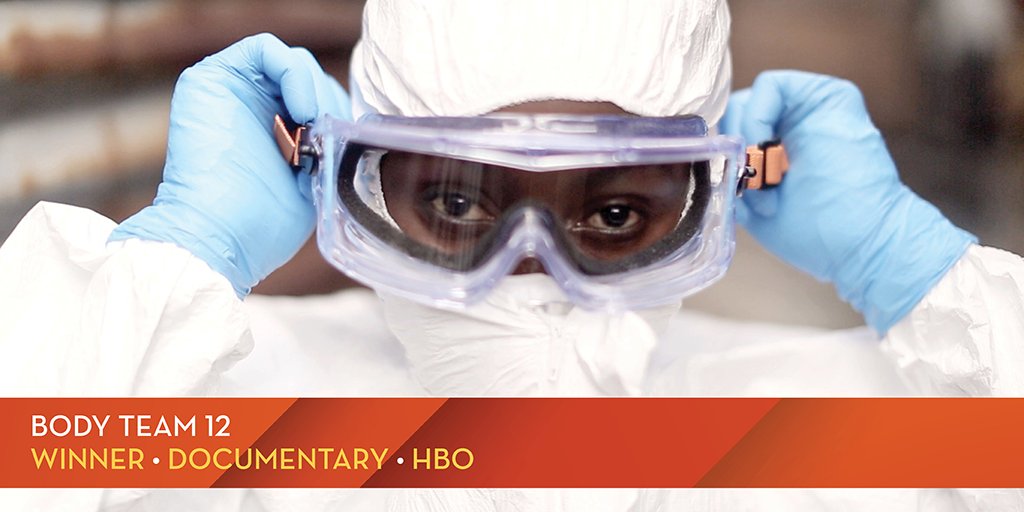 That's it for the nominees in the categories devoted to science, space, medicine, nature, and the environment. I'll return tomorrow with the final installment on the nominees, when I plan on collecting all the leftovers in these topics in one place. Stay tuned.
So I ended
Extinction, water, astronomy, and HIV among 2017 Emmy nominees for Outstanding Science, Medical and Environmental Report
and so I begin today's entry. I begin my examination with this passage from
Space, Ebola, volcanoes, stroke, and human expansion the topics of Science and Technology Documentary nominees
.
I made an observation and a promise yesterday.

There are three programs about Ebola nominated this year. I could have made an entire post about The Red Death! Instead, I promise I'll get to all of them before the winners are announced.

I was wrong; there really are four, as all three episodes of HBO's "Ebola Trilogy" were nominated separately. Added to "Spillover--Zika, Ebola & Beyond" and that makes four. Here is the trailer for all of the "Ebola Trilogy" from HBO.



A special presentation of three films on one night. "Ebola: The Doctors' Story," "Body Team 12," and "Orphans of Ebola" premiere March 14 on HBO.

This trailer won't have to serve as the video introduction to all three episodes; "Body Team 12," which was nominated for an Academy Award, has its own. "Orphans of Ebola" doesn't seem to have one on YouTube.
Here is
the trailer for "Body Team 12."
Body Team 12 follows a team of Liberian Red Cross workers tasked with collecting the dead during the height of the Ebola outbreak. The story is told on the ground in Monrovia, Liberia, through the eyes of the only female member of the team, who reveals the lifesaving work of removing bodies from family and loved ones in order to halt transmission of the disease.
Yes, another Oscar nominee for Best Documentary Short Subject is getting another shot at recognition at the News and Documentary Emmy Awards.* Here, it is nominated for Outstanding Short Documentary and Outstanding Editing: Documentary. In the latter category, it is competing with the third part of HBO's "Ebola Trilogy," "Orphans of Ebola." In both categories, "Body Team 12" is also competing against the end-of-life medical documentary "Extremis," another nominee for Best Documentary Short Subject. Here is
its trailer
from Netflix.
Witness the wrenching emotions that accompany end-of-life decisions as doctors, patients and families in a hospital ICU face harrowing choices.
This last film makes a point about medicine that it is not purely a science; it is an art as well. I make that same point to my students every semester. As for which one I think will win, it depends on the category. I'd say "Extremis" would have a better shot at both, but I have my doubts either will win Outstanding Short Documentary. "A Girl in the River: The Price of Forgiveness" is also nominated (and was a former Academy Award nominee), so it offers stiff competition. For Outstanding Editing: Documentary, the chances for the health documentaries are better.
Follow over the jump for the rest of the nominees in science, health, and the environment.
I found three nominees that were more science than either health or the environment. Two of them were nominated for Outstanding New Approaches: Documentary, "A Bear's-Eye View of Yellowstone" and "Collisions." The former looks like a fun follow-up to
'Wild Yellowstone: The Frozen Frontier' -- last year's Emmy winner for Outstanding Cinematography: Documentary and Long Form
. The second is much more serious and on-topic for this blog, the story of a native tribal elder's recounting of his being witness to an atomic bomb test in the Australian Outback. Not only does it talk about the event, but also the elder's philosophy on caring for the environment. For both of these nominees, it is not the content that is being recognized, bit the technology used to tell it. The third nominee that is as much or more about science than health or the environment is "The Genetic Testing Gold Rush" from CBS News, which earned a nomination for Outstanding Investigative Report in a Newscast. My wife and I are planning on taking a genetic test and there are a couple of videos from DNews/Seeker on the subject I've been planning on posting when we do. I hope this segment doesn't dissuade us. Just the same, it makes for a good transition to the nominees that cover health, which are many.
The opioid epidemic, which I mentioned in
U.S. life expectancy falls prompting Russian analogies
, inspired three nominees. "Hooked: America's Opioid Epidemic" from NBC Nightly News with Lester Holt is nominated for Outstanding Continuing Coverage of a News Story in a Newscast. Vice News Tonight's "The Rise of Carfentanil" is nominated for Outstanding Hard News Feature Story in a Newscast. "Chasing Heroin" from Frontline on PBS, earned a nomination for Outstanding Social Issue Documentary. Yes, health is a social issue. Regardless of whether these nominees win their categories, I will probably return to this topic as an example of societal decline and collapse.
Medical issues in sports were the subject of three nominees. "Russia's Dark Secret" from 60 Minutes on CBS explores doping in Russia's sports teams, particularly in Olympic events. It's nominated for Outstanding Investigative Report in a Newsmagazine along with the other nominee exporing the health aspects of sports, "Cost of the Game: The Dangers of Youth Football" from Real Sports with Bryant Gumbel on HBO. The latter segment might just get the U.S. to yes on the question of "
Are you ready for no football?
" So might "Friday Night Lights" from Vice News Tonight, which is nominated for Outstanding Feature Story in a Newscast.
Another nominee for Outstanding Investigative Report in a Newsmagazine explores the intersection between health and crime, "Do No Harm" from Dateline NBC. This is a local story for me. Dr. Farid Fata here in Metro Detroit was committing insurance fraud by making false diagnoses of cancer and then adminstering chemotherapy to his healthy patients. He was convicted and sent to prison. I didn't cover it because, while salacious, it wasn't really on-topic here unless I revived my "
science
crime
scenes
" series. It certainly would have qualified for that.
Two more nominees tell more positive tails about health. The first is "Double Arm Transplant" from CBS This Morning, which is nominated for Outstanding Feature Story in a Newscast, where it is competing with "Friday Night Lights" from Vice News. This story or one like it was mentioned in the comments to
Men Unlike Gods
at John Michael Greer's new blog Ecosophia as a rebuttal to Greer's points about the benefits of technology. Greer, of course, dismissed it.
The second positive story about health is "Autism in Love" from Independent Lens on PBS, which was nominated for Outstanding Social Issue Documentary, where it is competing with "Chasing Heroin." I'd rather the positive love story wins.
The Rachel Maddow Show's "An American Disaster: The Crisis in Flint" from MSNBC makes for a perfect transition from health to the environment with dashes of politics and crime to spice it up. It is nominated for Outstanding News Discussion & Analysis along with three other MSNBC news segments, which collectively account for four of MSNBC's five nominations, the fifth being Rachel Maddow's interview of Kellyanne Conway. Analysis and interviews are the two things MSNBC does well. I've written a lot about the
Flint Water Crisis
, but nothing since April. A trial of at least one of the officials responsible is going on now, so I should probably cover that.
Two nominees cover the Amazon Rain Forest and its environmental issues. "La Amazonía: Un Paraíso A La Venta" from Univision earned a nomination for Outstanding Feature Story in Spanish. "Deforestation in the Amazon InfoGuide" from The Council on Foreign Relations has a nomination for Outstanding New Approaches: Current News, where it is competing with "Carbon's Casualties" from The New York Times. That story details the first crop of climate refugees, including Americans living in Alaska and Louisiana who have to move away from rising sea levels. I might blog about that even if it doesn't win.
I mentioned the next nominee in
CNN visits Midway Island to promote documentary on plastic pollution
. "Nick Paton Walsh - Midway: A Plastic Island" from CNN is nominated for Outstanding Writing. It's another nominee I might write about even if it loses.
The final nominee is for Outstanding Business and Economic Documentary, "Dogtown Redemption" from Independent Lens on PBS. It's about the struggles of three recyclers in the West Oakland neighborhood. Since it's about recycling, it's about the environment, regardless of what else is covered.
The awards will be given out tonight. I'll return with posts about the winners that include videos. Stay tuned.
*"Body Team 12" also won Best Documentary at the Sentinel Awards, which is what the preview image refers to. I might write about those awards in a future entry.