Happy
Paczki
Day
AKA
Fat Tuesday
! I promised "The next award show I plan on writing about will be the
WGA Awards
on the 11th" at the conclusion of
'Coco,' 'Rick and Morty,' and 'Samurai Jack' among Annie winners
. I also said I would write about "the winners of
2018 WGA
Awards
" at the end of
Two videos from PBS Eons for Darwin Day
. It's time to follow through with the news from
Deadline Hollywood
.
Jordan Peele's Get Out and James Ivory's Call Me By Your Name won the marquee film awards tonight at the 70th annual WGA Awards, in concurrent shows in New York and Los Angeles. It puts both screenplays on the frontrunner list for the Oscars.
Here's what I wrote about the Original Screenplay nominees in early January.
"The Shape of Water" and "Get Out" have been nominated in every major awards show so far, the 2018 Critics' Choice Movie Awards, AFI Awards, Golden Globe Awards, and SAG Awards. I should not be surprised that their excellence began with a great original script.
Other than cheering all the speculative fiction nominees one, I didn't make a prediction. I got closer in
'The Shape of Water' and 'Blade Runner 2049' lead speculative fiction nominees at the Oscars
.
This is a close category that I can't call until the WGA Awards on February 10th. Still, I'm glad to write that "Get Out" has a very good chance.
Now I can say that "Get Out" is favored at the Oscars.
I was not as optimistic about the chances for "Logan." Here's what I wrote at the start of January.
"Logan" is the sole speculative fiction nominee among the adapted screenplay nominees. I'm pleased but surprised. If I thought any superhero movie would have earned this honor, it would have been "Wonder Woman." As The Hollywood Reporter noted, it was eligible. Still, it can now stand beside "Deadpool" as a superhero film worthy of a WGA nomination.
I made a more detailed prediction when I discussed the Oscar nominees
.Hey, look, "Logan," the first live-action superhero film to earn a screenwriting nomination at the Academy Awards. That's an honor that could have gone to "Deadpool" or "The Dark Knight" first. I'm happy for the writers, but I think this award will go to "Call Me by Your Name."
That's exactly what happened here and what I even more strongly expect at the Academy Awards.
That's enough of the movies for now.* Follow over the jump for the television winners.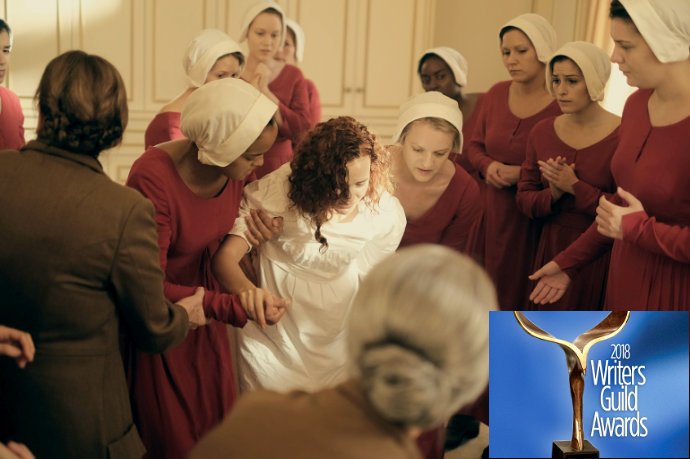 In December, I made a double prediction about "The Handmaid's Tale."
In addition to "Game of Thrones," "The Handmaid's Tale," and "Stranger Things" being nominated for Drama Series, "The Handmaid's Tale" earned a nomination for New Series. I expect the Hulu adaptation of Margaret Atwood's dystopian novel to be the favorite to win both.
It did, making it the biggest winner of the night. The series has been nominated for more honors by the
Costume Designers Guild
and
Motion Picture Sound Editors (Golden Reel Awards)
and I plan on reporting on both of those. Its first season awards run is not over, as I plan on submitting it to the Saturn Awards just in case others haven't done so. Imagine, an awards season that runs from last July, when
"The Handmaid's Tale" earned 13 Emmy nominations
to this coming June, when it could earn up to four nominations.
I did not have much to say about the last category with speculative fiction winner, writing "Three shows, 'Bob's Burgers,' 'BoJack Horseman,' and 'The Simpsons,' occupy all five slots in Animated Series, as "BoJack Horseman" and "The Simpsons" have two episodes each nominated." "BoJack Horseman" won. Since it has the strongest fantasy elements of any of the nominees, I'm pleased.
Now for the categories in which speculative fiction shows were nominated, but did not win. "American Horror Story: Cult" was the sole speculative fiction in Long Form Original, but lost to "
Flint
." Hey, that's a show I should blog about!**
Short Form New Media Adapted had episodes of speculative fiction series as three of its four nominees, two episodes of "Marvel's Agents of S.H.I.E.L.D.: Slingshot" and one of "The Walking Dead: Red Machete." Unfortunately, all of them lost to the "Zac & Mia" episode "Starboy." Phooey. The odds looked so good.
"The Leftovers" and "The OA" earned nominations for Episodic Drama, but lost to "Better Call Saul."
Two shows with fantastic elements, "Just Add Magic" and "The Magical Wand Chase: A Sesame Street Special," earned nominations for Children's Episodic and Specials but lost to "An American Girl Story – Ivy & Julie 1976: A Happy Balance." I'd have expected the Sesame Street entry to win instead.
Finally, "Horizon Zero Dawn" won Outstanding Achievement in Videogame Writing.
That's it for the WGA winners and nominees in speculative fiction. For all my readers who have made it this far, I have a treat for you, a paczki!
Enjoy, because
I can't eat them any more
.
*I plan to write about "Jane" and the awards it has won plus its Oscar snub after the
BAFTA Awards
. Stay tuned.
**So is "The Immortal Life of Henrietta Lacks," which lost to "
Big Little Lies
." No surprise there, as that's been happening since September.