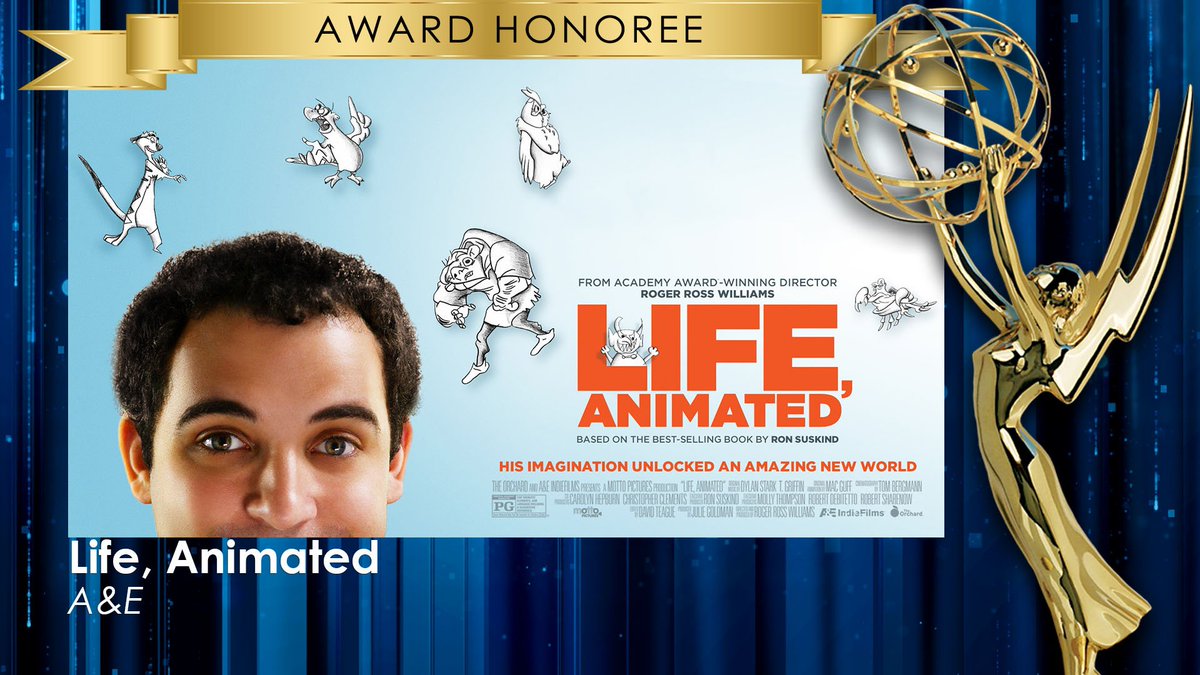 In the meantime, stay tuned for more coverage of the News and Documentary Emmy Award winners. I expect the next installment will be about "Life, Animated," which beat both "Chasing Coral" and "Putin's Revenge" for Best Documentary.
That's how I closed
'Charlottesville: Race and Terror' wins four Emmy Awards as four participants in riot arrested
, so I am following through.
Since I have never blogged about the movie before this year, I am embedding
its Official Trailer
to explain the movie.
From Academy Award® winning director Roger Ross Williams, LIFE, ANIMATED is the inspirational story of Owen Suskind, a young man who was unable to speak as a child until he and his family discovered a unique way to communicate by immersing themselves in the world of classic Disney animated films. This emotional coming-of-age story follows Owen as he graduates to adulthood and takes his first steps toward independence.
I hope my readers can see why I wrote that it would be tough competition for "Chasing Coral," if for no other reasson than it being a fomer Oscar nominee. In fact, it was such a quality entry that it pulled off the equivalent of "
Charlottesville: Race and Terror
" by sweeping its three nominated categories.
Instead of working down from the top award, I'm working up to it, beginning with Kate Bolduan presenting the trophy for
Outstanding Editing Documentary
.
In
14 nominations for 12 reports about Las Vegas Massacre and other mass shootings at the News and Documentary Emmy Awards
, I wrote that "I consider 'Life, Animated' to be the strongest contender for this award." I was right. Congratulations.
Next, Bill Whitaker presents the award for
Outstanding Arts & Culture Documentary
.
I don't know how the soundtrack got so out of synch with the video. Still, congratulations.
Finally, the category that attracted my attention to this movie,
Best Documentary
. Watch Dick Cavett present the award in his uniquely whimsical way.
I appreciate how Ron Susskind, Owen's father, connected this film to the current state of journalism and the country, making it even more relevant.
This film deserves a curtain call, so here are the crew and subjects of
Arts & Culture Documentary "Life, Animated"
being interviewed.
The team from Life, Animated", on A&E, winner of the Emmy Award for Outstanding Arts & Culture Documentary, presented at the 39th Annual News & Documentary Emmy Awards.
Congratulations!
I plan on writing about the rest of the
Oscar nominees at the 2018 News and Documentary Emmy Awards
, three of which, "Abacus," "Heroin(e)," and "Last Men in Aleppo," won awards. Stay tuned.