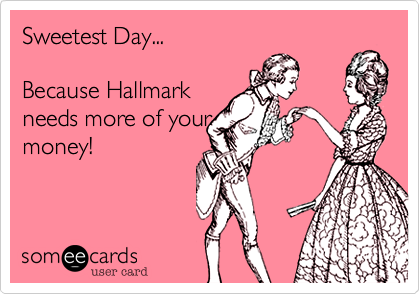 Happy
Sweetest
Day
! As I wrote last year, I consider
Sweetest Day
to be a real day worth celebrating, especially since it has proved to be
a very popular
holiday here at Crazy Eddie's Motie News
. The 2015 post was the sixteenth most read entry of the fifth year of the blog and the 2016 post was the eighth most read entry of the sixth year of the blog and reached sixth on the all-time list. Last year wasn't as lucky.
However, the regional holiday —
Sweetest Day's Wikipedia page
lists it as being celebrated in Illinois, Indiana, Kentucky, Michigan, Missouri, North Dakota, Ohio, South Dakota, Wisconsin, West Virginia, and areas of both New York and Pennsylvania west of the spine of the Appalachian Mountains — has the reputation of being a "
Hallmark Holiday
" created to sell cards, hence the image I am using to illustrate this entry. It's not; it was originally created to sell candy and then turned into a day to celebrate love, generosity, and sweetness to others. Just the same, I can't fight the perception all by myself, and I think it might be funny to play into it. Because of that, I'm embedding Company Man's
Hallmark - Bigger Than You Know
to celebrate the day.
We all know Hallmark for their greeting cards but there's so much more to this company. Even when it comes to that greeting card segment, people tend to overlook it. This video takes a look at Hallmark from the beginning to where they stand today.
I hope my readers found that as informative as I did. I thought it was so useful that I'm going to use Company Man's latest video about what happened to Sears, a companion of sorts to
his video on KMart
, as the latest on
the Sears Holdings bankruptcy
. Stay tuned for more tales of the Retail Apocalypse.