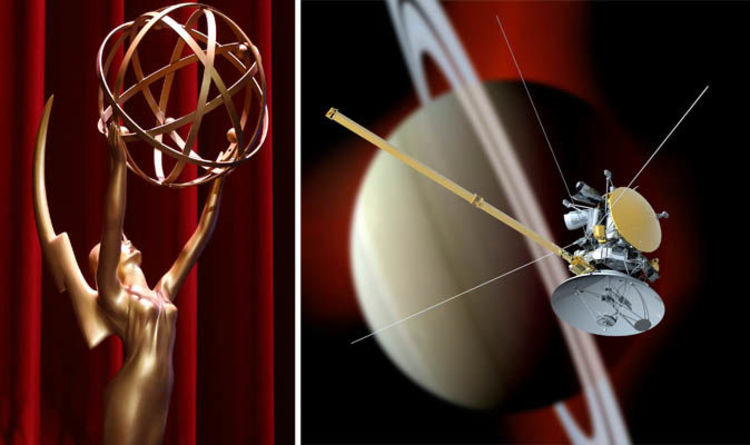 Two entries about space earned Emmys this year, one at the Creative Arts Emmy Awards and another at the News and Documentary Emmy Awards. I begin by being a good environmentalist and recycling the relevant passage from
'Westworld,' 'Game of Thrones,' 'The Handmaid's Tale,' 'Stranger Things,' and other speculative fiction nominees at the Creative Arts Emmy Awards
, which itself builds off of recycled material.
It's to recycle from Bill Nye, Neil deGrasse Tyson, and NASA all nominees at the 70th Emmy Awards for Outstanding Original Interactive Program.

Moving even farther out into space, "NASA JPL: Cassini's Grand Finale" earned a nomination for Outstanding Original Interactive Program.
...
Joining "Cassini's Grand Finale" as a nominee in the category is "Back To The Moon," a glorified Google doodle.
...
Joining both are three speculative fiction featurettes, "Blade Runner 2049: Memory Lab," "Coco VR," and "Spider-Man Homecoming VR Experience." I'll have more to write about then later when I cover the speculative fiction nominees.

I hope it's "NASA JPL: Cassini's Grand Finale," but I wouldn't be surprised by any of them winning, especially the Google doodle, which more people probably saw than the other two.
I got my wish, as "NASA JPL: Cassini's Grand Finale" won Outstanding Original Interactive Program. Watch
Emmy winners from NASA's Jet Propulsion Laboratory in the 2018 Creative Arts Emmys Press Room
.
As a reminder, here is the video that I embedded two months ago to represent the program.
The final chapter in a remarkable mission of exploration and discovery, Cassini's Grand Finale is in many ways like a brand new mission. Twenty-two times, NASA's Cassini spacecraft will dive through the unexplored space between Saturn and its rings. What we learn from these ultra-close passes over the planet could be some of the most exciting revelations ever returned by the long-lived spacecraft. This animated video tells the story of Cassini's final, daring assignment and looks back at what the mission has accomplished.
Goodbye, Cassini!
Also, congratulations to the JPL interactive media team on their Emmy Award!
The other Emmy Award earned by a program about space went to "The Farthest: Voyager in Space" at the News and Documentary Emmy Awards. Watch
The Farthest - Voyager in Space - Trailer
.
Over 12 billion miles from Earth, a gangly ship sails through interstellar space. It is, by far, the most distant object made by human hands. In 1977, NASA launched twin Voyager spacecraft. An emotional, cinematic documentary, The Farthest tells their story through first-hand accounts from the passionate men and women who built the ships and guided their journeys. Negotiating a series of perils on its Grand Tour of the outer planets, Voyager beamed back spectacular images of Jupiter, Saturn, Uranus, and Neptune. But their moons offered bigger surprises—volcanoes, geysers, and a liquid water ocean. On the chance of discovery by intelligent aliens, each spacecraft carried a Golden Record with music and spoken greetings. The mission has earned its place in the pantheon of human achievements. Long after our sun has flamed out, the Voyagers are likely to be sailing on, perhaps the only evidence that we ever existed.
Out of all
the nominees
for Outstanding Science and Technology Documentary, "The Farthest: Voyager in Space" would probably have been my favorite, followed by the "Nova" episode "Poisoned Water" about the Flint Water Crisis.* I got my wish, as
it won
.
This is the second major entertainment award JPL/NASA won for Voyager this year, joining the
the Grammy Award
won by "The Voyager Golden Record." Congratulations!
Stay tuned for more on the Emmy Award winners.
*I am sorry I didn't write an entry about all of the nominees for Outstanding Science and Technology Documentary. I might write about both "Poisoned Water" and "The Mars Generation" in a future post.