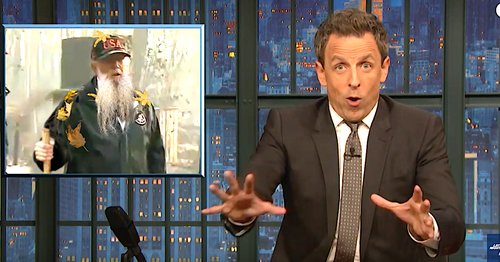 I took a serious look at
California's Camp and Woolsey fires
two days ago. Now it's time for a more humorous one as
Seth Meyers takes a closer look at Trump's weird lie about raking in Finland
.
Seth takes a closer look at President Trump making up another weird thing about a foreign country while attacking a retired admiral for not getting Osama bin Laden sooner.
Trump so badly wants to make this about forest management instead of climate change that he will make stuff up, although I suspect he conflated what he saw the firefighters doing with his conversation with the President of Finland. That may explain his comment, but does not excuse it.
Enough laughs. For a more serious rebuttal of Trump's remarks, read
Finnish Biologist Corrects Trump On Rakes
at Talking Points Memo. Ignore the spelling errors and weird grammar, as English is not the man's first language; his explanation of the Finnish environment and forestry practices looks to me, who is also a biologist, to be correct.