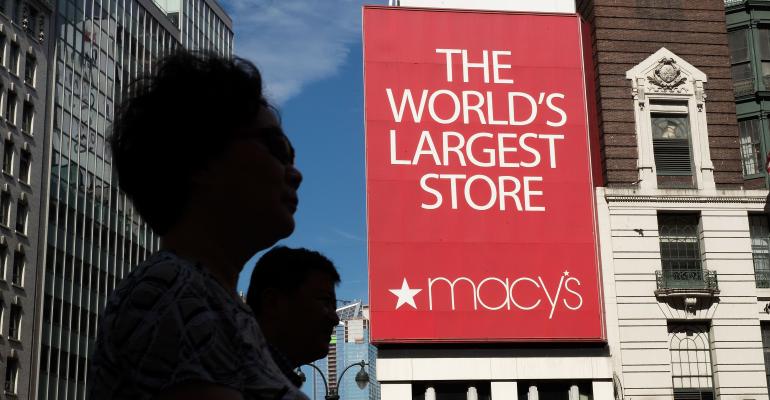 Happy
Black Friday/Buy Nothing Day
! This major shopping day, which is still
bigger than Cyber Monday
, makes for a perfect occasion to update the
Retail
Apocalypse
. Today's featured chain isn't
Sears
, but
Macy's
, which
CNBC named as a chain that might benefit from the demise of Sears
. Ironically, CNBC put Macy's in the spotlight yesterday with
The Rise And Fall Of Macy's
.
Macy's was once the largest department store in the world. But its size is now a burden. It's closing stores and rethinking its strategy going into its most critical period of the year.

Macy's is testing smaller stores to slash expenses on staffing and inventory. Currently, the department store chain is trying the idea at four locations, including at Stamford Town Center in Connecticut, to cut its real estate by as much as a fifth there and turn those shops into "neighborhood stores." It mimics similar initiatives already taken by rivals Kohl's and Nordstrom. Kohl's is dividing some of its bigger stores to allow room for new tenants like grocer Aldi, while Nordstrom is trying a small-shop concept known as Nordstrom Local in Los Angeles. Even mall operators like Macerich are looking at store space in a new way, rolling out stores that showcase a number of brands for a short period.

"If your store is too big and your dollars per square feet are too low and you can't lease the space to someone else, then you've got to hive off a floor," Macy's CEO Jeff Gennette told the Journal in an interview. "If we were building stores today, we'd build them smaller."

Not needing so many locations — and with some being unprofitable — Macy's in early 2017 shut 100 stores as it's been working to whittle down its real estate. It's also been working with Brookfield Asset Management to allow the real estate firm to redevelop all or part of 50 select properties. Macy's had roughly 690 locations, including those under the Bloomingdale's banner, still open as of the latest quarter.
Ironically, Macy's was one of the first store closings I covered in writing about the Retail Apocalypse even before I knew about the phrase in
Closure of Northland Mall approved
. Back then, I treated it as a failure of the mall, which had been a long time coming, not as a failure of the chain or of brick-and-mortar retail. Now, I know better.
While CNBC had a skeptical, if not downright pessimistic, take on Macy's performance and prospects, Bloomberg Markets and Finance's reporting was much more upbeat in
Macy's CEO on Black Friday, Holiday Shopping Season
.
Jeff Gennette, chairman and chief executive officer at Macy's, discusses consumer traffic in-store and online for Black Friday, holiday hiring, and investing in stores and digital sales. He speaks with Bloomberg's Emma Chandra on "Bloomberg Markets: The Open."
Here's to hoping that Gennette is correct about his assessment, and not just putting the most positive spin on the situation.
Speaking of positive spin, he talked a lot about how the demise of Bon Ton was good for Macy's, including hiring their former employees. I think I might cover the end of Bon Ton next. I also have videos about Macy's by Wochit Business and Retail Archeology to share. Stay tuned.