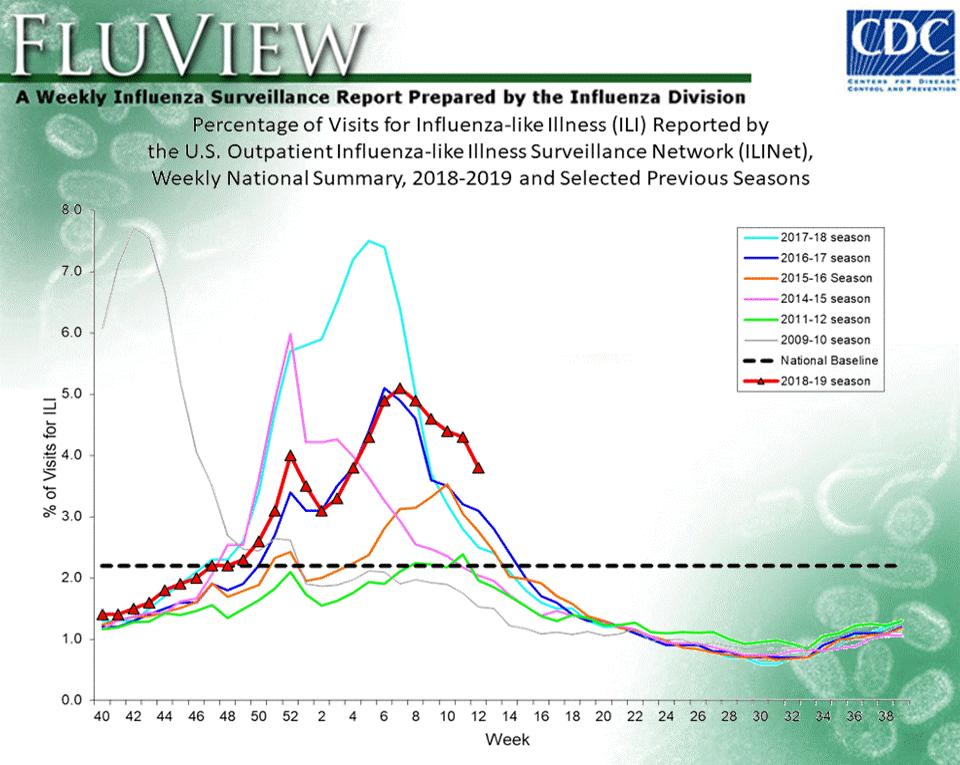 I told my readers at the end of
Wonkette reacts to its Media Bias Chart placement, an update to 'A comparison of two measures of media bias shows readers and viewers respond to both ideology and quality'
to "stay tuned" as "I plan on continuing this retrospective series tomorrow with an installment on last year's flu epidemic." That's because
Flu killed 80,000 Americans last year, including 183 children, the CDC reported, so get a a flu shot
posted October 19, 2018 was the fifth most read entry of the eighth year of the blog, earning 7176 raw page views by March 20, 2019. It was also the most read entry during October 2018 with 7061 default page views. That deserves an update about the current flu season, which, while less severe than last year, is hanging on longer.
At first, it looked like flu season was winding down in February, as WXYZ reported in
28 children have died so far in 2018-2019 flu season, CDC reports
.
The CDC has released a new estimate concerning flu-related deaths. The numbers range between 9,600 to almost 16,000 deaths for the 2018-2019 flu season. And so far, 28 children have died.
Despite the dire numbers of deaths, I found the statistics for effectiveness of the vaccine to be reassuring. That written, the indications that the current flu season would be relatively mild turned out to be premature, as the Mayo Clinic reported a month later in
Infectious Diseases A-Z: Flu season part two
.
The replacement of H1N1 with H3N2, producing more severe symptoms, started showing up in news reports almost immediately. For example, CBS Los Angeles uploaded
Hard Hitting Flu Season Is Peaking
the very next day.
If you thought flu season was winding down you better think again. A lot of people are coming down with the bug. A new strain of the flu is hitting people hard. As CBSLA's Jasmine Veil explains, it's peaking now.
At the end of the week, WISN in Wisconsin reported
Flu season far from over
.
With the flu season far from over, state health officials warn of a spring flu spike. There have been 36 influenza-related deaths in Wisconsin this season.
The wave continued this week with WCVB in Boston reporting
Massachusetts health officials report 4th child flu death of season
.
Last year, the state saw just one flu-related pediatric death.
The Delaware News Journal updated the flu statistics for Delaware and the country just yesterday in
State: Influenza A still raging; 2018-2019 flu season now has 2nd highest number of cases
.
The 2018-2019 flu season has tallied the second-highest number of influenza cases in state-recorded history — and likely isn't going to go away for weeks, state officials said Thursday.
...
As of March 23, the state has confirmed 5,854 confirmed cases of influenza, 943 hospitalizations and 20 deaths this season. The actual number of confirmed flu cases is much higher because only a small fraction of cases are officially tested in a lab.

Nationally, there have been about 508,000 flu hospitalizations and 46,800 deaths, CDC officials said.
Am I ever glad I got my vaccination this year. As for the rest of you, stay healthy. I need you to stick around to the next post in the series, which would most likely be about the intersection between foreign policy and the economy. Trade policy, anyone?
Previous posts in this series
Previous retrospectives about risk and doom.