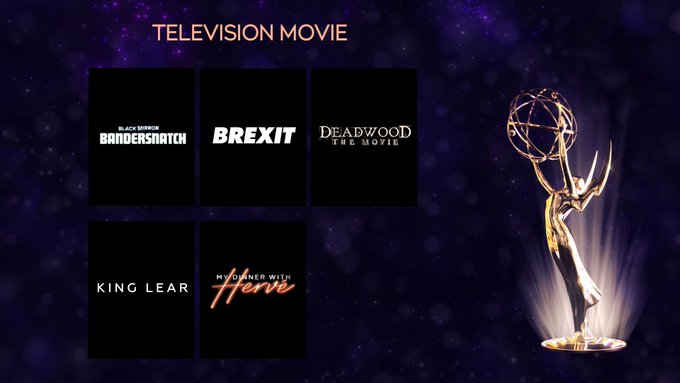 "Stay tuned," I told my readers at the end of
'Queer Eye' wins four Emmy Awards
, as "I plan on looking ahead to the nominations for television movies and limited series. As I started researching both categories, I remembered why I wrote about the
television movie
and
limited series
nominees separately last year; despite the overlap in the individual achievement categories, combining the two was too much work. Therefore, I'm doing the same thing this year and looking at the movie nominees first.
Since the Television Academy has provided me an example to show the nominees for Outstanding Television Movie instead of merely telling my readers about them, I'll take it. Watch
71st Nominees: Outstanding Television Movie
.
The Nominees for Outstanding Television Movie are Bandersnatch (Black Mirror), Brexit, Deadwood: The Movie, King Lear, and My Dinner With Hervé.
After looking at science, diversity, and political satire, I finally get to write about an Emmy nominee that is speculative fiction, "Black Mirror." It's the one I'm rooting for, as it's both the
two-time
returning winner
as well as the current holder of
a Golden Coffee Cup for television
as Best Miniseries or Movie for Television about Politics and Government. It's also the only nominee to
win an individual achievement award at the Creative Arts Emmys
, Outstanding Creative Achievement In Interactive Media Within A Scripted Program. The rest came up dry last weekend.
That wasn't for lack of opportunity. In particular, "Deadwood: The Movie" was nominated for
seven awards
— Outstanding Cinematography for a Limited Series or Movie, Outstanding Hairstyling for a Limited Series or Movie, Outstanding Make-up for a Limited Series or Movie (Non-Prosthetic), Outstanding Single-Camera Picture Editing for a Limited Series or Movie, Outstanding Sound Editing for a Limited Series, Movie, or Special, Outstanding Sound Mixing for a Limited Series or Movie, and Outstanding Special Visual Effects in a Supporting Role. It lost all of them to limited series, five to "Chernobyl" and two to "Fosse/Verdon." Still, by my other way of handicapping nominees for awards shows, number of nominations, it is my pick to upset "Black Mirror."
The other nominees, "Brexit," "King Lear," and "My Dinner with Hervé," only have the one nomination for Outstanding Television Movie, so I'm not too worried about their winning. Too bad, as "Brexit" is a topical examination of the origins of
an ongoing political crisis
and "King Lear" is a classic. As for "My Dinner with Hervé," it's an example of Hollywood nominating a good story about itself. However, I think it's the weakest of the lot.
I plan on returning later this week with the limited series nominees, especially "Chernobyl," which has already won seven Emmy Awards in technical categories. Why not tomorrow? It's
Talk Like a Pirate Day
. Arr!
Previous entries in this series.