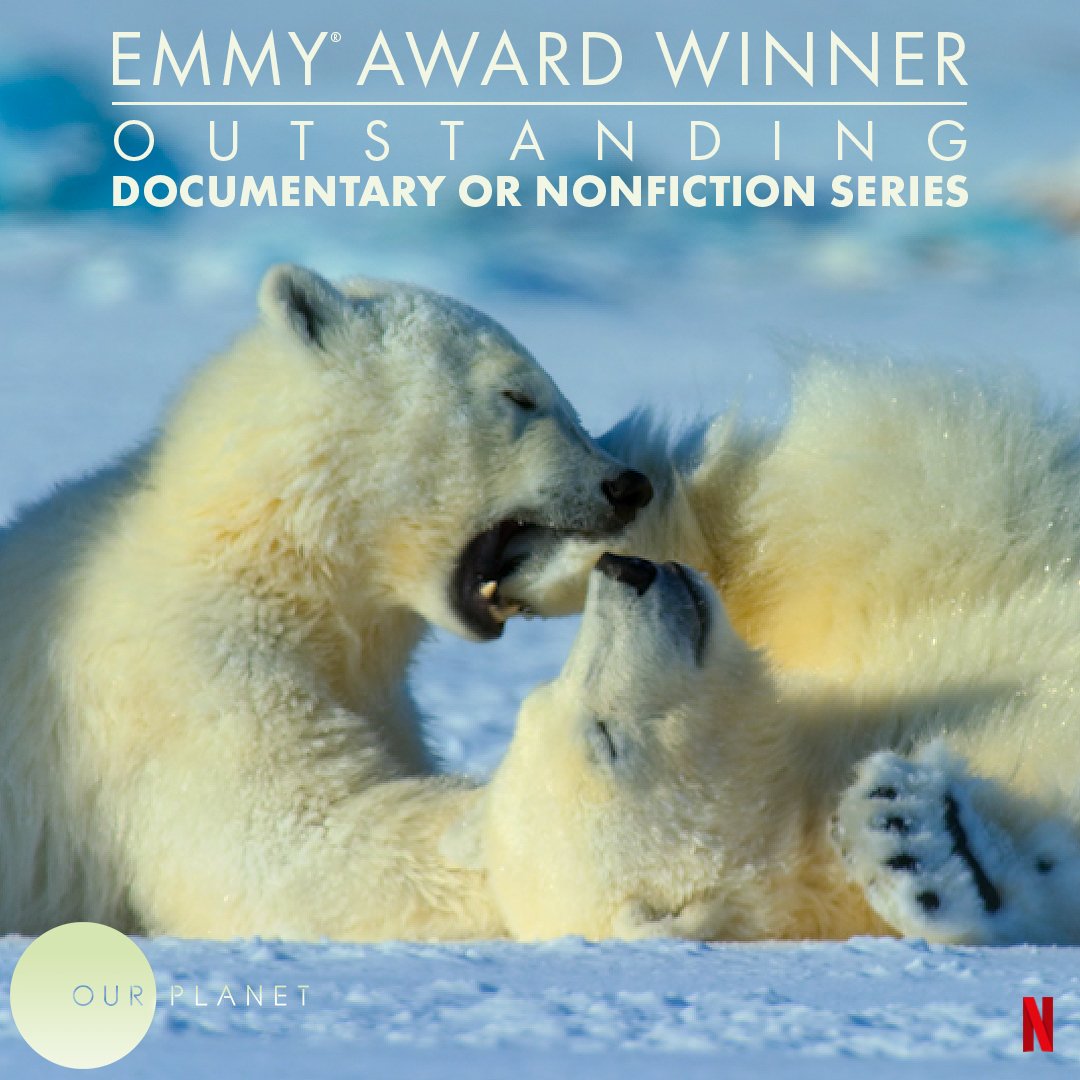 I told my readers to "stay tuned for more of
the winners
from yesterday and tonight" at the
Creative Arts Emmy Awards
at the end of yesterday's
'RBG' ties 'The Sentence' for Exceptional Merit In Documentary Filmmaking at the Creative Arts Emmy Awards
. Today, it's time to revisit my predictions from
'Hostile Planet' vs. 'Our Planet' — Nature and science nominees at the Creative Arts Emmy Awards for National Wildlife Day
. The big winner out of the shows I reviewed there was "Our Planet," which won two awards.
Outstanding Documentary or Nonfiction Series

30 for 30 (ESPN)
American Masters (PBS)
Chef's Table (Netflix)
Hostile Planet (Nat Geo)
Our Planet (Netflix)

The two nature series, Nat Geo's "Hostile Planet" and Netflix's "Our Planet," are competing head to head in this category. "Our Planet" has far more nominations, 10, to only 3 for "Hostile Planet," which is contending with the Netflix series in every category it's nominated. The other three nominees only have the one nomination in this category. Based on the number of nominations, I think "Our Planet" is the clear favorite, although "American Masters" has been nominated nearly every year since this category began 21 years ago and is the only returning nominee from last year.
I was right to deem "Our Planet" the favorite, as it won. Congratulations!
Outstanding Narrator

Sir David Attenborough on Our Planet (Netflix)
Angela Bassett on The Flood (Nat Geo Wild)
Charles Dance on Savage Kingdom (Nat Geo Wild)
Anthony Mendez on Wonders of Mexico (PBS)
Liev Schreiber on The Many Lives of Nick Buoniconti (HBO)
Juliet Stevenson on Queens of Mystery (Acorn TV)

Sir David Attenborough won this last year for "Blue Planet II," so he's the nominal favorite. Among the other nominees, both Angela Bassett and Liev Schreiber are well-known actors, so I think they would have a chance with the Emmy electorate. Between the two, I'd give the edge to Bassett.
Sir David won again. He deserves it, so congratulations!
Follow over the jump for the other science and nature winners at this weekend's Creative Arts Emmy Awards.
Outstanding Interactive Program

Conan (TBS)
Last Week Tonight with John Oliver (HBO)
NASA And SpaceX: The Interactive Demo-1 Launch (YouTube)
The Daily Show with Trevor Noah (Comedy Central)
The Late Late Show with James Corden (CBS)
The Late Show with Stephen Colbert (CBS)

Here's the first of two categories with a nominee that's about space and science, not nature. I really think NASA and SpaceX should just be happy to be nominated, as "Last Week Tonight With John Oliver" won this award last year and is my pick to repeat.
This award gives me another opportunity to be happy to be wrong, as "NASA And SpaceX: The Interactive Demo-1 Launch" won. Surprise! This category wasn't the only one NASA won, as the space agency earned an Emmy in the next one as well.
Next, a category with nominees about both space and nature.


Outstanding Original Interactive Program

First Man VR (Windows Mixed Reality)
HQ Trivia x Warner Bros.: A Live and Interactive Animation First (HQ Trivia)
NASA InSight's Mars Landing (NASA TV)
Traveling While Black (Oculus)
You vs. Wild (Netflix)

I'm more optimistic about NASA winning this category, as "NASA JPL: Cassini's Grand Finale" won this award last year. Joining NASA InSight's Mars Landing is "First Man VR," an interactive movie experience of the Oscar-winning movie and "You vs. Wild," which, like "Hostile Planet," also features Bear Grylls. While I'm rooting for NASA, I wouldn't be surprised if "You vs. Wild" wins.
"NASA InSight's Mars Landing" won this award. Congratulations to NASA for winning two Emmy Awards!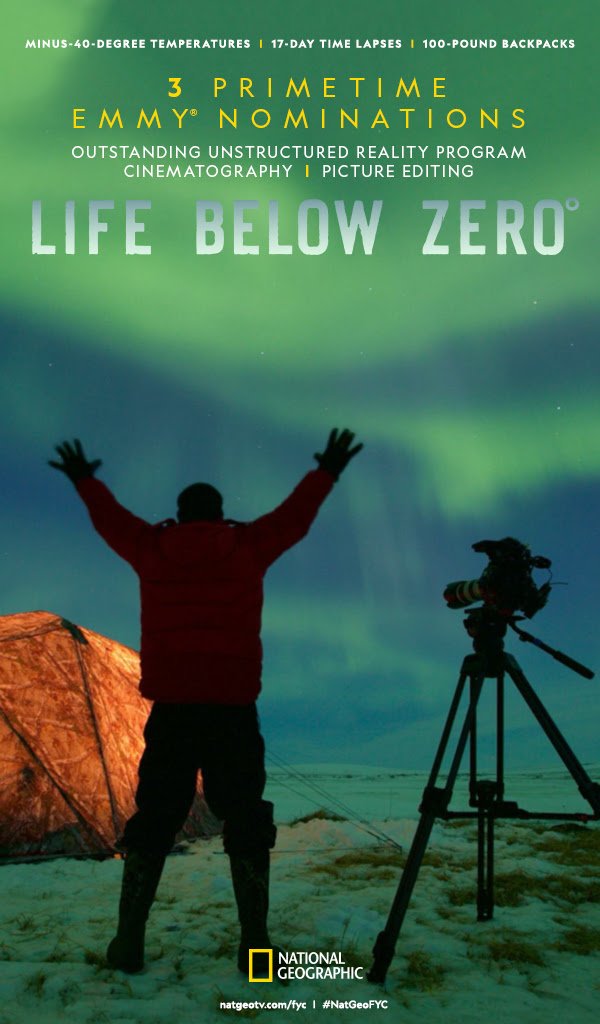 Now for a category
a reality show about nature
won.
Outstanding Cinematography for a Reality Program

Deadliest Catch (Discovery Channel)
Life Below Zero (Nat Geo)
Queer Eye (Episode: "God Bless Gay") (Netflix)
RuPaul's Drag Race (Episode: "Trump: The Rusical") (VH1)
Survivor (CBS)

"Life Below Zero" won this award last year and three years ago, so I consider it to be the nominal favorite. However, "Born This Way" won the year before that and "Deadliest Catch" won five consecutive years before either, so the competition will be stiff.
"Life Below Zero" won the Emmy again. Congratulations!
Stay tuned as I plan on examining the awards won by "
Anthony Bourdain: Parts Unknown
" and "
United Shades of America
" tomorrow.
Previous entries in this series.