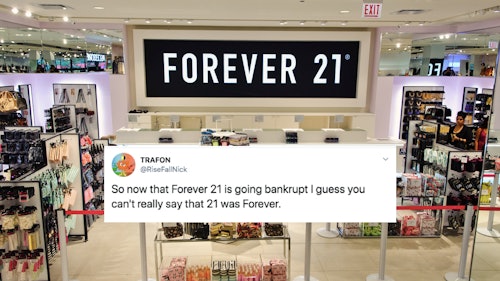 It's been three weeks since I wrote about the
Retail
Apocalypse
when I examined
the rise and demise of Shopko
, so it's time for another tale of the Retail Apocalypse.
Today's installment is about the fast fashion retailer Forever 21, which
WTAJ TV reported last week is facing bankruptcy
.
This video has no description beyond "Forever 21 bankruptcy," so I turn to CNN's
Teen clothing retailer Forever 21 is about to file for bankruptcy
, which has a good description even though the video itself makes no mention of Forever 21, which is probably why it has twice as many unlikes as likes. CNN may have deceived its viewers with an irrelevant title, but in this case, the reverse is not true. The ratio isn't lying.
Teen clothing retailer Forever 21 is preparing for a potential bankruptcy filing, according to several published reports.

Forever 21, which is privately held, has more than 800 stores in 57 countries. And while many retailers have been paring back their network of stores in recent years, Forever 21 was adding stores as recently as 2016. It still has as many stores as it reported at that time.
For a video that both has a lot of relevant footage and commentary about Forever 21's situation as well as a description that matches, I present Retail Archeology's
FOREVER 21: Headed For Bankruptcy!
In this episode we take a look at Forever 21 and discuss their likely upcoming bankruptcy.
As an environmentalist, I probably should be more opposed to fast fashion than I am; as Newsweek reported three years ago,
Fast Fashion Is Creating an Environmental Crisis
.
Americans are blithely trashing more clothes than ever. In less than 20 years, the volume of clothing Americans toss each year has doubled from 7 million to 14 million tons, or an astounding 80 pounds per person. The EPA estimates that diverting all of those often-toxic trashed textiles into a recycling program would be the environmental equivalent of taking 7.3 million cars and their carbon dioxide emissions off the road.
Yikes! On the one hand, replacing Forever 21 with a clothing outlet that produces more sustainable clothing would be an improvement. On the other, that's not likely to happen. Instead, until Americans, especially young women, change their fashion tastes, they will just buy fast fashion online and more malls will be stuck with empty anchors and other stores,
creating more dead mall
. Sigh.
Finally, I recommend my readers click on the link to Retail Archeology's video on YouTube and read the comments. Some of them are brutal! Erik himself screen-capped them and
tweeted them out
.
Yikes! Having watched
Sears and KMart avoid liquidation
, that's saying something!