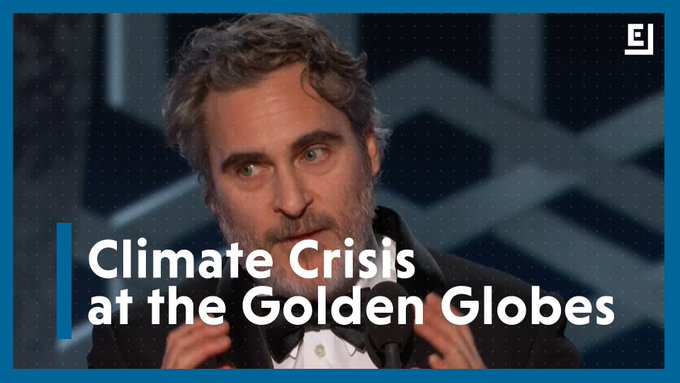 Patricia Arquette not only urged viewers to vote at the Golden Globes
, but she also referred to climate change when she mentioned "the continent of Australia which is on fire." She was not alone. Russell Crowe issued a statement read by Jennifer Anniston when
she accepted the award for Best Actor in a Limited Series or TV Movie on his behalf
.
Russell Crowe accepts the award for Best Performance by an Actor in a Limited Series or a Motion Picture Made for Television at the 77th Annual Golden Globe Awards.
Gizmodo quoted Crowe's statement in
Climate Change Stole the Show at the Golden Globes
.
Make no mistake. The tragedy unfolding in Australia is climate change-based. We need to act based on science, move our global workforce to renewable energy, and respect our planet for the unique and amazing place it is. That way, we all have a future.
While "Russell Crowe could not be here with us tonight because he is at home in Australia protecting his family from the devastating bushfires," as
Anniston told the audience
, another Australian remained in Los Angeles to get on stage. Cate Blanchett mentioned the troubles in her home country when she presented an award.
I wanted to do a special call-out to the volunteer firefighters who have been at the center of battling the climate disaster that is facing Australia. And of course, when one country faces a climate disaster, we all face a climate disaster. So we're in it together.
Guardian Culture included both Blanchett and Ellen DeGeneres talking about Australia in
Fire and politics take centre stage at Golden Globes
.
Celebrities including Cate Blanchett and Ellen DeGeneres used their Golden Globes speeches to offer support to people battling bushfires in Australia. Meanwhile Michelle Williams and Patricia Arquette used the opportunity as a political platform, urging people to vote in this year's US election.
I wish I had this video yesterday. I could have taken care of both exhorting Americans to vote and climate change in one post.
Joaquin Phoenix made a much more general statement about climate change and how Hollywood celebrities have been contributing to it when
he accepted the Golden Globe for Best Actor in a Motion Picture - Drama
.
Joaquin Phoenix accepts the award for Best Performance by an Actor in a Motion Picture - Drama at the 77th Annual Golden Globe Awards.
Gizmodo quoted Phoenix as well.
It's really nice that so many people have come up and sent their well wishes to Australia, but we have to do more than that. It's such a beautiful gesture. Together, hopefully, we can be unified and actually make some changes. It's great to vote, but sometimes we have to take that responsibility on ourselves and make changes and sacrifices in our own lives. I hope that we can do that. We don't have to take private jets to Palm Springs for the awards sometimes or back.
I second this sentiment. It's one of the main reasons why
I monitor my driving so closely
. I want to be a good example.
I'm not done with the Golden Globes, as I plan on revisiting the Golden Globes to discuss
the winners that dealt with politics and government
as well as
diversity among the individual winners
. Stay tuned.