I told my readers to "Stay tuned" as "I'll get to the Critics' Choice Awards the weekend of the 11th and 12th" at the footnote to
How my Saturn Award votes and predictions fared for National Science Fiction Day
. I also wrote "The movie nominees will be
announced tomorrow
" in the footnote to
Politics and government on television at the 2020 WGA Awards for National Screenwriters Day
. When I looked at the movie nominees for both awards shows, I noticed that there are fewer
award-nominated dramatic films
and
comedy films about government and politics
in 2019 than in 2018, although there seem to be about as many
speculative fiction films addressing political themes
at this year's awards so far. That's the bad news. The good news is that having fewer films to discuss means that I'll write about movies first and leave the television nominees, which are very busy tackling politics, for tomorrow's Sunday entertainment feature.
I begin with the most nominated film about politics and government at the
Critics' Choice Awards
, "1917," which has eight nominations at tomorrow's ceremony.
Best Picture

Best Director – Sam Mendes

Best Cinematography – Roger Deakins

Best Production Design – Dennis Gassner, Lee Sandales

Best Editing – Lee Smith

Best Visual Effects

Best Action Movie

Best Score – Thomas Newman
"1917" already has
two Golden Globes
for Best Best Motion Picture -- Drama and Best Director -- Motion Picture, so it could easily win the equivalent awards tomorrow night. Both the
American Film Institute
and
National Board of Review, USA
listed it among their top ten films of 2019. The latter also awarded a Special Achievement in Filmmaking Award "for the outstanding cinematography" to Roger Deakins; the
Satellite Awards
also presented Best Cinematography to Deakins, so I suspect that "1917" will be a favorite for that, too.
One notable snub at the Critics' Choice Awards was Best Screenplay. However, "1917" has a nomination for Best Original Screenplay at the
WGA Awards
. As far as I can tell, it's the only movie about politics and government nominated in that category.
Before I discuss the other movies about politics and government, I present the acceptance of its Golden Globes. First,
Sam Mendes Wins Best Director - 2020 Golden Globes
.
Sam Mendes accepts the award for Best Director - Motion Picture at the 77th Annual Golden Globe Awards.
Next,
1917" Wins Best Motion Picture, Drama - 2020 Golden Globes
.
Sam Mendes accepts the award for Best Motion Picture - Drama at the 77th Annual Golden Globe Awards.
Good luck to Mendes and the rest of his cast and crew — no one from the cast earned a nomination — at tomorrow's awards.
Follow over the jump for the rest of the nominees that examine politics and government.
The next most nominated drama is "Bombshell" about the sexual harassment scandal at Fox News with four nominations.
Best Actress – Charlize Theron

Best Supporting Actress – Margot Robbie

Best Acting Ensemble

Best Hair and Makeup
Unlike "1917," the cast of "Bombshell" earned the bulk of the nominations. Unfortunately, I have my doubts they'll win any awards unless its for Best Acting Ensemble; the competition is too stiff. Instead, I have the most hope for Best Hair and Makeup just based on transforming John Lithgow into Roger Ailes.
Next, "Harriet," the story of Harriet Tubman, with two nominations.
Best Actress – Cynthia Erivo

Best Song – Stand Up
I mentioned Erivo and "Harriet" in
Action, Thriller, Independent, and International Films at the 2019 Saturn Awards
.
I've never heard of Cynthia Erivo before, but she's the nominee from the leading Thriller movie in this category. She must be a good actress as well as a singer, as she will also be starring as Harriet Tubman in "Harriet." That should be worth watching.
Based on these nominations, it is.
The final nominated drama about politics and government is "Les Misérables" with one nomination for Best Foreign Language Film. It won't win; "Parasite" has this category locked up.
There are two comedies that examine politics, the most nominated of which is "Jojo Rabbit" with seven nominations.
Best Picture

Best Supporting Actress – Scarlett Johansson

Best Young Actor/Actress – Roman Griffin Davis

Best Young Actor/Actress – Thomasin McKenzie

Best Young Actor/Actress – Archie Yates

Best Adapted Screenplay – Taika Waititi

Best Comedy
On the one hand, I've heard that this is a well-done comedy. On the other, it's about the Hitler Youth and actually has the director playing Adolf Hitler. Ugh. I'd rather not write about it. I have a feeling it will win Best Comedy and, if the voters can pick one of the nominees, Best Young Actor/Actress. Otherwise, I hope it loses.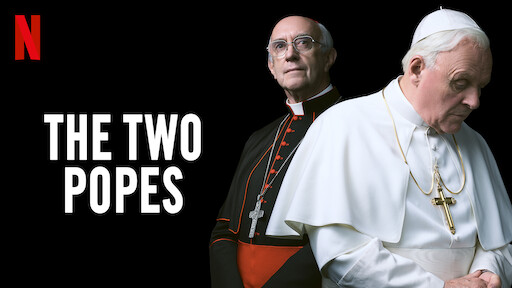 The other comedy is "The Two Popes" with two nominations. Remember, the Pope is a monarch, and thus head of state, as well as head of the Roman Catholic Church, so any film about the office will be political.
Best Supporting Actor – Anthony Hopkins

Best Adapted Screenplay – Anthony McCarten
I am a big fan of Anthony Hopkins, but I have my doubts he will win. As for the screenplay, it didn't earn a nomination from the WGA, so I don't have much hope for it here.
There are four speculative fiction films that have political elements, no matter how far-fetched. The most serious of them is "Ad Astra" with two nominations.
Best Visual Effects

Best Sci-Fi or Horror Movie
My wife and I watched this movie, which portrays a mission by Space Command, not NASA, probably around 2100. We thought it deserved better than it got at the box office and it probably is the best science fiction movie of the year, although we might change our minds when we watch "The Rise of Skywalker." However, its competition is stiff and it could lose to any of "Avengers: Endgame," "Midsommer," or "Us." I suspect "Us" is its stiffest competition. As for the visual effects, they were spectacular, but I'm not sure they're the best among all the nominees.
Now for the three animated films that feature kings, queens, and fantastic politics and government, beginning with two Disney films with two nominations each, "Frozen II" and "The Lion King." "Frozen II" is competing for Best Animated Feature and Best Song for Into the Unknown. I think it's the favorite for both. "The Lion King" is nominated for Best Visual Effects and Best Song for Spirit. Finally, How To Trian Your Dragon: The Hidden World has the one nomination for Best Animated Feature. It won't win.
While I began by bemoaning that fewer top rated movies had political themes in 2019 than in 2018, I can conclude by writing that there are enough of them that I'm now looking forward to running
Coffee Party Golden Coffee Cup Awards for Movies
later this year. I had been worried.