Time to be a good environmentalist and recycle my salutation to my readers from
celebrating diversity in awards shows nominees and winners for MLK Day
.
A happy and contemplative Martin Luther King Day to my readers! To celebrate, I'm continuing the tradition I began with 'Glory' from 'Selma' for MLK Day and continued with Hollywood's diversity issues for MLK Day and 'Hidden Figures' tops the box office for MLK Day plus diversity among Golden Globes winners, examining diversity and representation in entertainment....
After last year's
'Green Book,' 'If Beale Street Could Talk,' and more celebration of diversity in awards show winners for MLK Day 2019
to say nothing of the wins for diversity among
documentaries
,
superhero movies
, and
mainstream dramas and comedies
,
this year's crop of Oscar nominees
looks disappointing in comparison for diversity and representation. Still, it isn't a complete bust for actors and directors of color, as Cynthia Erivo has two nominations for Best Performance by an Actress in a Leading Role and Best Achievement in Music Written for Motion Pictures (Original Song), both for "Harriet," and Bong Joon Ho is nominated for Best Director for "Parasite," which has five more nominations, Best Picture, Best Original Screenplay, Best Achievement in Film Editing, Best Achievement in Production Design, and Best International Feature Film. Other than Best International Feature Film, all of those awards go to individuals; Best International Feature Film goes to the country, in this case South Korea. Unfortunately, I think Renne Zellwinger will win Best Actress, either Elton John and Bernie Taupin or Kristen Anderson-Lopez and Robert Lopez will win Best Original Song, and "Parasite" will win only Best International Feature Film. Oh, well, at least the Lopezes winning for "Frozen II" would still be a victory for diversity in individual winners, even if they already have an Oscar for the original "Frozen."
That written, if the Acting Branch of the Motion Picture Academy has its way, "Parasite" would have a good shot at winning Best Picture, as it won the equivalent at
last night's SAG Awards
, Best Cast. Watch
Bong Joon Ho & the 'Parasite' Cast Make History at the SAG Awards
from Variety.
Neon's "Parasite" won best motion picture cast at the 26th Screen Actors Guild Awards on Sunday, becoming the first foreign language film to pick up the top prize. Director Bong Joon Ho and the cast answer questions backstage after their historic win.
Note that the first question was about diversity and another was about opening the U.S. to Asian films and actors. Also, this victory sets up a different contest than the one I was anticipating in
'1917' among movie and TV winners about politics and government from Producers Guild of America (PGA) Awards
. I was expecting a fight between "1917" and "Once Upon a Time in Hollywood." Now "Parasite" is among the front-runners as well. Maybe Hollywood won't vote for "a good film or show about itself." That would be as welcome a surprise as "Moonlight" beating "La La Land."
Farther down the nomination list, the documentary and short subject nominees are a treasure trove of diversity. Follow over the jump for their stories.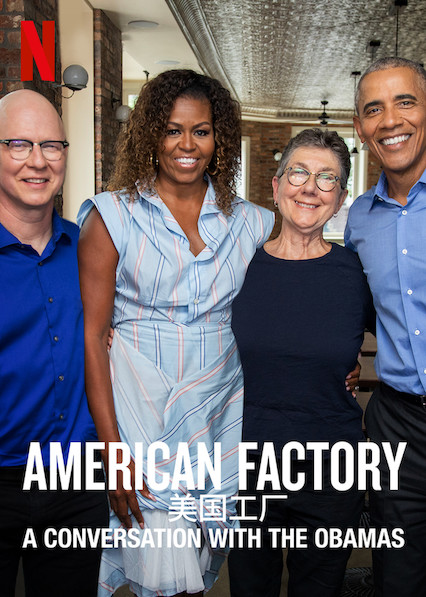 The field for Best Documentary Feature includes "
American Factory
," which won Best Political Documentary at the
Critics' Choice
Documentary Awards
. In addition to having both American and Chinese producers, it is the first film from Barack and Michelle Obama's production company Higher Ground. In addition, all the other nominees in the category feature diversity in one way or another. "
The Edge of Democracy
is about Brazil's recent political history and both
For Sama
and
The Cave
are about women's experience in civil wars in the Middle East. Even
Honeyland
, which is from Northern Macedonia, features people of Middle Eastern or North African origin among its Balkan subject.* I think the last is the toughest competition for "American Factory," as it is also nominated along with "Parasite" for Best International Film Release, making it the only documentary with two nominations this year. However, that distinction didn't help "RGB" last year; it lost to "Free Solo."
All of the nominees for Best Documentary Short Subject also deal with diverse subjects. "
In the Absence
" is, like "Parasite," a South Korean film, so all involved would be people of color from an American perspective (from a Korean one, they're just people). "
Life Overtakes Me
" documents the lives of refugees in Sweden. "
Walk Run Cha-Cha
" recounts the experiences of Vietnamese refugees in southern California. "
Learning to Skateboard in a Warzone (If You're a Girl)
" takes place in Afghanistan, so it complements both "For Sama" and "The Cave." "
St. Louis Superman
" tells the story of "Bruce Franks Jr. is a 34-year-old battle rapper, Ferguson activist and state representative from St. Louis, Missouri." Not only is the subject a person of color, so are the producer-directors, Sami Khan and Smriti Mundhra. Whichever nominee wins, it will be a victory for diversity and representation.
Most of the nominees for Best Live Action Short Film also feature diverse casts and creators. "
Brotherhood
" and "
Nefta Football Club
" deal with subjects from the Middle East and North Africa. "
Saria
" depicts the lives and deaths of orphans in Guatemala, and "
Une soeur
" lists Selma Alaoui as one of its stars. Only "
The Neighbors' Window
" among the nominees does not appear to feature any actor or creator of color. Just the same, the field has great representation both in front of and behind the camera.
Finally, at least two of the nominees for Best Animated Short Film have people of color directing them and feature characters who are also people of color. Siqi Song is the creator of
Sister
and Matthew A. Cherry and Karen Rupert Toliver animated "
Hair Love
." I would personally prefer "Hair Love," but "Sister" already has an Annie Award, the only one among the nominees to have earned an award or nomination from that awards show, so I think it is favored. It would still be a win for diversity.
I conclude this examination of diverse nominees by embedding
"Stand Up" - Official Music Video - Performed by Cynthia Erivo - HARRIET
.
From the motion picture HARRIET, the Original Song "STAND UP" is written by Joshuah Brian Campbell & Cynthia Erivo.
I'll have more about the Oscar nominees when I examine the nominations for movies with political themes. Stay tuned.
*I worked for the Census Bureau, which lists people of Middle Eastern or North African origin as White. I'm usually inclined to go along with my former employer on this subject, but my experience is that Americans of European origin generally consider them people of color, so I'm going to do so here, as arbitrary as I think it is.