I've been predicting that Julian Castro would drop out of the presidential contest for two months now, the history of which I recounted in last month's
Sestak sinks and Bullock bows out as both drop out
.
I wrote "Now to see if my pick of Julian Castro drops out before or after Steve Bullock and Michael Bennet. My readers and I should find out shortly after the November 13 deadline for the next debate" just above the jump cut in Bye-bye Beto as O'Rourke drops out. I repeated my prediction in the comments to Au revoir Tim Ryan as Ohio Representative retires from race: "As for who's next, I still think it will be one of Bennet, Bullock, or Castro. At least one of them will drop out after they fail to make the next debate."
I was wrong a month ago, as Joe Sestak dropped out next, followed by Steve Bullock then
Kamala Harris
, but today my prediction came true. Watch CBS News report
Julián Castro drops out of 2020 presidential race
.
Former Housing Secretary Julián Castro announced he is dropping out of the presidential race. Castro, the only Latino in the crowded Democratic field, failed to gain a foothold among voters and lagged behind other candidates in the fundraising race.
The Hill added more analysis in
BREAKING: Julían Castro drops out, Panel reacts
.
Team Rising reacts to Julían Castro ending his 2020 Presidential bid.
The panel got the reasons for Castro dropping out right. He didn't have enough support in the polls, he lost visibility by not making
the
last
two
debates
, and he was running out of money. Therefore, it was no surprise to me, as I saw it coming two months ago. So did FiveThirtyEight, who held
a second drop out draft in November
. He was their first pick.
nrakich: [W]ith my first pick, I choose former Secretary of Housing and Urban Development Julián Castro.

Castro is almost certainly not going to make the November debate — he has gotten zero qualifying polls, and there's only a week left to qualify.

sarahf: Good pick (furiously reorders roster).

nrakich: And Castro got in this race to win — i.e., he's not a John Delaney who's just running for the heck of it.

So for a candidate like Castro (and O'Rourke before him), there's really no point to continuing your campaign if you're not in the debates.

sarahf: I mean Castro has essentially said as much — he's sent at least one email to supporters where he's said that if he did not qualify for the November debate, it would "be the end of my campaign."

nrakich: He also has an incredibly high burn rate and ended the third quarter with just $1.1 million on hand.




His recent campaign moves (laying off staffers in New Hampshire and South Carolina) also suggest to me that he's running on fumes.

Also… Just gonna leave this here… The filing deadline for the Texas U.S. Senate race is Dec. 9.

Now, Castro has said that he wouldn't run for Senate. But, as John Hickenlooper can tell you, talk is cheap.

geoffrey.skelley (Geoffrey Skelley, elections analyst): Oh, that would be a particularly crazy curveball!

nrakich: On the other hand, he'd be a pretty natural VP choice for any of the current presidential front-runners, which could be a reason for him to just sit at home and wait by the phone.
I didn't see this article until after Sestak and Harris dropped out. Too bad, as both of them were also picked in the draft, Sestak in seventh and Harris in fifth. If I had read this in time, I wouldn't have been so surprised by Harris quitting. As for Bullock, he and Michael Bennet were the only candidate picked in both drafts and Bullock dropped out right after Sestak. Four down, five to go. In order of likelihood of suspending their campaigns, FiveThirtyEight listed the remaining five as Cory Booker, Marianne Williamson, Michael Bennet, Tom Steyer, and Amy Klobuchar. I'd prefer Bennet get out next, but I'm afraid it will be Booker.
Follow over the jump for the drinks and memes I'm retiring now that Castro has ended his campaign.
I begin with the recipes I recommended for Castro in
Drinks for the Democratic debates, Part 1
.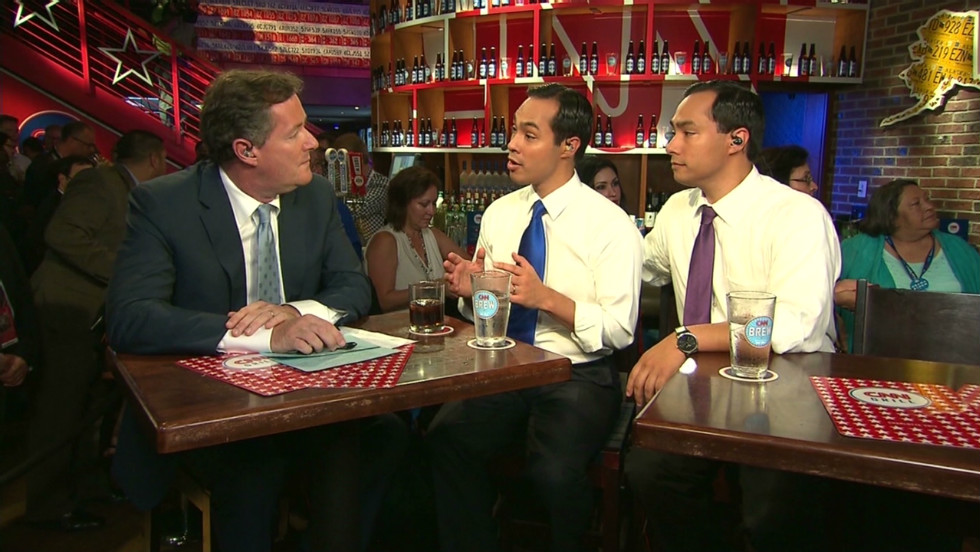 According to Texas Monthly, Julian Castro's current favorite drink is Diet Snapple Lemon. However, when he named his favorite comfort food, it was iced tea. If one wanted a non-alcoholic drink, either would do, but I have the same reaction as I did to having a mocktail in honor of Booker — what's the fun in that? Instead, I recommend America's Iced Tea from Tipsy Bartender.
This one is vibrant, refreshing, and super boozy!

If my readers think this drink is too strong, they can stick to Snapple.
Next, the meme from
OnTheIssues.org's take on the Democratic presidential candidates from left to center
.
The two Texans in the contest tie with an economic score of 18. Of the two, Beto O'Rourke has the second highest social score with a score of 88, ranking him under only Sanders and Mike Gravel, while Julian Castro is closer to the center with a social score of 78. Despite the clear difference in social score, On The Issues rates both as Hard-Core Liberals.
Both Texans are now gone, as is Eric Swalwell. Only Andrew Yang is still running.
I recycled Castro's chart in
On The Issues shows most of the Democratic candidates have moved left during the campaign, too
.
The two Texans in the contest did not budge in either of their ideological scores. Both Beto O'Rourke and Julian Castro remained tied at an economic score of 18. O'Rourke kept his social score with a score of 88, while Castro stayed at a social score of 78. Since June, a third candidate has joined the two Texans with an economic score of 18, Pete Butigieg, who has moved five points to his left economically and seven points to the left socially for a total of twelve points, second only to Williamson in total score change. O'Rourke, Castro, and Buttigieg were tenth, eleventh, and fourteenth or eleventh, twelfth, and fifteenth, counting Sestak in June. The ranking is now O'Rourke, Buttigieg, and Castro in thirteenth, fourteenth, and fifteenth now that Swalwell has dropped out. Either way, O'Rourke and Castro have become less liberal relative to the pack while staying constant in their scores, while Mayor Pete has moved up in the rankings. As a result, On The Issues has changed his classification from Populist-Leaning Liberal to Hard-Core Liberal.
Because of candidates dropping out, I updated the chart for
Democratic candidates continue to drift leftwards according to On The Issues
.
[O]n to Julian Castro, who has moved to the left along both the economic and social axes. He currently has an economic score of 13, five to the left of the 18 he had in June and July. His social score is now 80, two higher than the 78 he had the past two reports. Rounding up to the nearest multiples of five, that puts at the same location on the Nolan Grid as Ryan, which is why the two of them share an infographic. That has pushed him to the left relative to the field, as Castro is now the tenth most liberal candidate still running, whereas he was the fifteenth in July, cementing his rating as a Hard-Core Liberal according to On The Issues.
I made a final comment about Castro's ideological position in
Kamala Harris heading home came as a complete surprise
.
While I'm retiring this chart because Harris has dropped out, I would have had to been retired even if she were still running. First, Harris left the campaign with a more moderate social score of 73, which, combined with her economic score of 10 places her closer to Amy Klobuchar than Joe Biden. Harris ended her run as the fourth most liberal member of the field according to On The Issues. Second, Biden himself has become more moderate with an economic score of 15 and a social score of 80. The two no longer share the same point on the Nolan Grid. Time to make a new graph for Biden, Cory Booker, Julian Castro, Tom Steyer, and Andrew Yang, who now share a spot.
A month ago, Castro had moved slightly to his right economically with a score of 15, while his social score remained unchanged at 80. That became the ideological position in which he left the contest.
Now, do I hurry to make new memes for all the remaining candidates for tomorrow's entry, or wait until Booker drops out? Decisions, decisions.
In the meantime, today is
National
Science
Fiction Day
. I'll see what I can post for it. Stay tuned.