I
promised
drink suggestions
for Michael Bloomberg and Deval Patrick, who might or have already joined the race for the Democratic presidential nomination. Since tonight is
the November debate
, today is as good an opportunity as any.
Since both the candidates entered the contest late and are from states that have already produced candidates, I'm going to be a good environmentalist and recycle my drink suggestions. For Bloomberg, I'm reusing three recipes from
Drinks for Republican candidates: Graham, Pataki, and Gilmore
that I suggested for George Pataki. Since Bloomberg used to be a Republican, I think it's appropriate.
First, the
New York Sour
.
This is a crazy cocktail the mixes red wine, lemons juice and whiskey to create and sweet tasting layered cocktail.
...
NEW YORK SOUR
2 oz. (60ml) Bourbon
1 oz. (30ml) Lemon Juice
1 oz. (30ml) Simple Syrup
Tops with Red Wine (Shiraz or Malbec)
Next,
The Manhattan
.
Ladies and gentlemen a classic cocktail....THE MANHATTAN. This is an old school cocktail that is still relevant today. It is the perfect mix of whiskey, sweet vermouth and bitters. If you love whiskey then you must try this drink.
...
MANHATTAN
2 oz. (60 ml) Whiskey
0.5 oz. (15 ml) Sweet Vermouth
2-3 Dashes of Bitters

2 oz (60 ml) Whisky
0.5 oz (15 ml) Sweet Vermouth
2-3 Dashes of Bitters
If that's not enough,
About.com has a recipe for a New York Cocktail
.
Ingredients

2 ounces blended whiskey
1 ounce lemon juice
1 teaspoon superfine sugar
1/2 teaspoon grenadine
Lemon twist for garnish
...
Preparation

Pour the ingredients into a cocktail shaker with ice cubes.
Shake well.
Strain into a chilled cocktail glass.
Garnish with the lemon twist.
I'm also going to steal
Saveur's recipe for the Billionaire Cocktail
from
Drinks and drinking games for Donald Trump and the GOP debates
.
Ingredients
2 oz. high-proof bourbon, such as Baker's
1 oz. fresh lemon juice
1/2 oz. simple syrup
1/4 oz. absinthe bitters or absinthe
1/2 oz. grenadine syrup made from pomegranate, such as Employees Only
Lemon wheel, for garnish
Instructions
Combine bourbon, lemon juice, absinthe bitters or absinthe, and grenadine in a shaker over ice. Shake vigorously and strain into a coupe glass. Garnish with the lemon wheel.
Bloomberg deserves this drink more than Trump. Besides, Tom Steyer already has the Billionaire's Margarita.
Of course, if one wants something non-alcoholic to toast Bloomberg, one can always drink the soft drink of one's choice in a Big Gulp cup.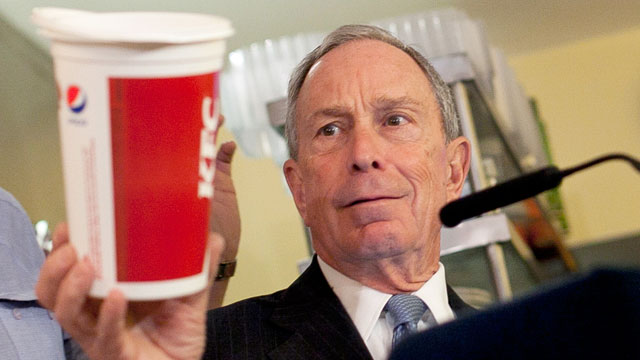 For Deval Patrick, I'm recycling
my suggestion for Seth Moulton
Spoon University's unofficial cocktail for Massachusetts, the Cape Codder
.
With Ocean Spray cranberry juice headquartered in Massachusetts, their signature cocktail MUST feature this yummy drink. What's better than a basic as f*ck vodka cranberry? Add a lime and call it a Cape Codder.
Yes, I'm taking this drink
out of retirement
for Patrick. Surprise!
Enjoy tonight's debate and enjoy these drinks, although not at the same time. I have my doubts either candidate will make the December debate or any other, for that matter.
Stay tuned for graphs of their ideological positions from
OnTheIssues.org
.