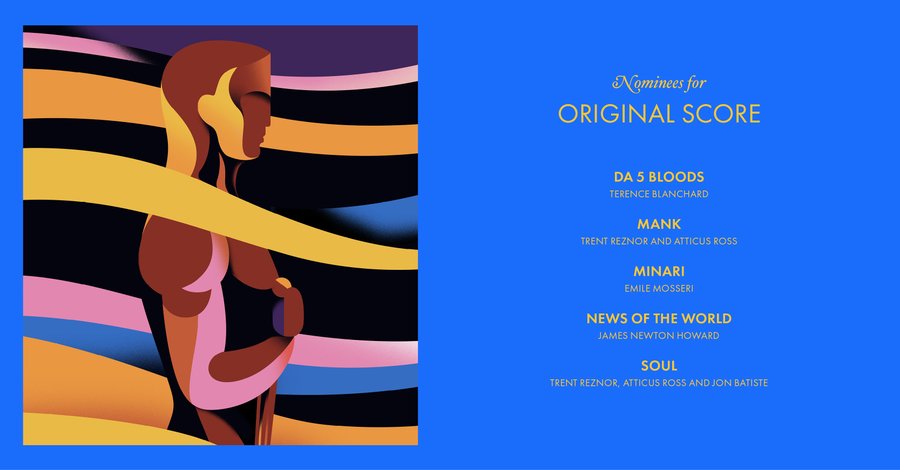 Happy
National Film Score Day
!
On April 3rd, National Film Score Day recognizes the musical masterpieces called 'Film Scores' and, more specifically, the very talented composers who create them.
So does the Motion Picture Academy along with other bodies that run awards programs. As part of my series on
this year's
Oscar nominees
, so am I.
As the graphic from the Motion Picture Academy above shows, the nominees for Best Original Score are "Da 5 Bloods," "Mank," "Minari," "News of the World," and "Soul." Since I'm focusing on nominated films about politics and government in this series, I'm glad the alphabetized roster of nominees listed "Da 5 Bloods" first. Listen to
What This Mission's About | Da 5 Bloods (Original Motion Picture Score)
.
"What This Mission's About" from Da 5 Bloods (Original Motion Picture Score). Music by Terence Blanchard.
...
ABOUT DA 5 BLOODS:
From Academy Award® Winner Spike Lee comes a New Joint: the story of four African-American Vets — Paul (Delroy Lindo), Otis (Clarke Peters), Eddie (Norm Lewis), and Melvin (Isiah Whitlock, Jr.) — who return to Vietnam. Searching for the remains of their fallen Squad Leader (Chadwick Boseman) and the promise of buried treasure, our heroes, joined by Paul's concerned son (Jonathan Majors), battle forces of Man and Nature — while confronted by the lasting ravages of The Immorality of The Vietnam War.

ABOUT TERENCE BLANCHARD:
Oscar nominee, six-time Grammy-winner and 2018 USA Fellow trumpeter/composer Terence Blanchard has been a consistent artistic force for making powerful musical statements concerning painful American tragedies – past and present. From his expansive work composing the scores for Spike Lee films ranging from the documentary When the Levees Broke, about Blanchard's hometown of New Orleans during the devastation from Hurricane Katrina to the epic Malcolm X; and the latest Lee film, Da 5 Bloods, Blanchard has interwoven melodies that created strong backdrops to human stories. Blanchard received an Oscar nomination for his original score for BlacKkKlansman. He was also BAFTA nominated for his original music for the film. He won a Grammy for Best Instrumental Composition for writing "Blut Und Boden (Blood and Soil)" a track from BlacKkKlansman.
Now, that's a powerful opening piece for this post! Also, I'm thrilled to see Terence Blanchard, the composer for "
BlacKkKlansman
" and hear his music. I wish him luck, although I think he'll lose to "Soul" the way he did two years ago to "Black Panther." Too bad, as this is the only nomination for "Da 5 Bloods."
Next,
Welcome to Victorville
from "Mank."


Welcome to Victorville · Trent Reznor & Atticus Ross
Not bad, although I think Reznor and Ross have a better chance of winning along with Jon Batiste for "Soul." As for "Mank," despite its
ten nominations
, it might come away with only one Oscar for production design — that is if it beats "Ma Rainey's Black Bottom."
Moving on to
Garden of Eden
from "Minari."


Garden of Eden · Emile Mosseri
Minari (Original Motion Picture Soundtrack)
That's really pretty and I can hear why it deserved to be nominated. Win? No, but the movie has six nominations with its strongest odds of winning for Best Supporting Actress if Glenn Close or Maria Bakalova doesn't win.
The penultimate track for this section is
End Titles (from the Motion Picture "News Of The World")
.


End Titles (from the Motion Picture "News Of The World") · James Newton Howard
Nothing like the soundtrack from a Western, which "News Of The World" is, to provide conventionally moving movie music. The same is true of its cinematography, which I think is its strongest category.
Finally, my pick to win,
Trent Reznor and Atticus Ross - The Great Beyond (From "Soul"/Audio Only)
.
Disney and Pixar's Soul introduces Joe Gardner (voice of Jamie Foxx) – a middle-school band teacher who gets the chance of a lifetime to play at the best jazz club in town. But one small misstep takes him from the streets of New York City to The Great Before – a fantastical place where new souls get their personalities, quirks and interests before they go to Earth. Determined to return to his life, Joe teams up with a precocious soul, 22 (voice of Tina Fey), who has never understood the appeal of the human experience. As Joe desperately tries to show 22 what's great about living, he may just discover the answers to some of life's most important questions.
I already posted the video of Reznor, Ross, and Batiste accepting the Golden Globe in
Closer looks at CPAC, Andrew Cuomo, and the Golden Globes from Colbert, Meyers, Kimmel, and Corden
, so I'm sharing
Jon Batiste, Celeste - It's All Right (From "Soul"/Duet Version/Official Lyric Video)
as an encore of sorts, not only for winning the Golden Globes for Best Song and Best Animated Movie, but also for winning the equivalent categories
at the 2021 Critics Choice Awards
.
Check out Jon Batiste and Celeste's version of "It's All Right" from SOUL, the brand new movie from Disney Pixar now streaming on Disney+.
That didn't qualify for Best Original Song because it's a cover. Speaking of Best Original Song, follow over the jump for the nominated songs I haven't already featured in previous posts.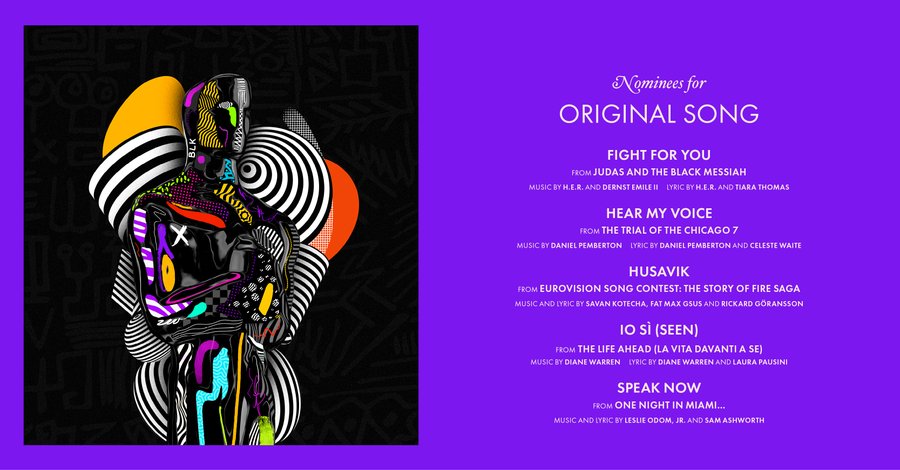 I've already embedded the videos for "Husavik" from "Eurovision Song Contest: The Story of Fire Saga" and "Speak Now" from "One Night in Miami" in
Politics, government, and diversity among movie nominees at the 2021 Golden Globes
in
Politics, government, and diversity in movie nominees at the 2021 Critics Choice Awards
, so I'm moving on to "Fight For You" from "Judas and the Black Messiah," "lo Sì (Seen)" from "The Life Ahead (La Vita Davanti a Se)," and "Hear My Voice" from "The Trial of the Chicago 7." Again, since I'm concentrating on movies about politics and government, I'm pleased to begin this section with
H.E.R. - Fight For You (From the Original Motion Picture "Judas and the Black Messiah")
.
Wow, I love this song! I don't think it will win, but I think it should! I have a feeling it will be the best live performance along with "Husavik" at the actual awards. Too bad the votes will be counted before the artists perform. At least Daniel Kaluuya is likely to win Best Supporting Actor, like he did at the Golden Globes and Critics Choice Awards, so "Judas and the Black Messiah" won't go away empty-handed.
Speaking of the song that I think will win, listen to
Laura Pausini - Io sì (Seen) [From The Life Ahead (La vita davanti a sé)] (Official Video)
, which won the Golden Globe.
Diane Warren (music/lyrics), Niccolò Agliardi (lyrics), and Laura Pausini (lyrics) are the nominees and I think this might win not only because it's a pretty song, but because it will give Warren her first Academy Award after
twelve(!) nominations
. She deserves an Oscar to go along with her two Golden Globes and
Creative Arts Emmy Award
. That means I've finally forgiven her for the theme song for "
Enterprise
," the worst theme music in the
Star Trek
franchise's
55
-
year
history
. It's not a bad song; it just didn't work for "Star Trek."
I conclude today's entry with
Celeste - Hear My Voice (Official Video) | From The Trial of the Chicago 7 on Netflix
.
I'm glad to see Daniel Pemberton earn a nomination. I became a fan after listening to
his Emmy-nominated music for "Black Mirror: USS Callister."
I'm also glad to hear Celeste sing again after her duet with Batiste in "Soul." I doubt he'll win, as I think it's between Warren, Agliardi, and Pausini for "The Life Ahead" and Leslie Odom Jr. and Sam Ashworth for "Speak Now" from "One Night in Miami," which won the Critics Choice Award.
One last time, Happy National Film Score Day! Stay tuned for
Easter
. Since it's an odd-numbered year, expect drink recipes.