Early last week, Paul W. at You Might Notice a Trend did some research on the
Clinton Foundation Vs. Trump Foundation
.
Where I work, I have access to a foundations/grants database.

On a whim, I took a look at the two foundations currently in the news...

The governing board for the Clinton Foundation has CEO, CFO, executive Director. The only Clinton family member I see active with the non-profit is Chelsea Clinton.

The governing board for the Trump Foundation is all Trump: Donald himself, two of his kids, one of his grandkids, and I think his son-in-law. I know I shouldn't suspect *cough* nepotism *cough* but still...

The database I use didn't show on the records the foundations' rating scale, it may have been under a different part of the directory. But for what I know, the Clinton Foundation is vetted and graded and the Trump Foundation isn't.
My comment summarized the information in the last two links.
I'm a regular user of Charity Navigator. That site has a wealth of data many charities, including both foundations. The Clinton Foundation has a 4-star rating. The Trump Foundation is not rated at all!
The day before, Paul quoted a
Washington Post article
in
A Serious Scandal For a Deadly Serious Election Year
that reported that the $25,000 donated to a political group connected to Florida Attorney General Pan Bondi came from the Trump Foundation. The two stories came together again this week when The Late Show with Stephen Colbert posted
The Trump Foundation Needs Your Help
to its YouTube channel.
Can you find it in your heart to give? For just pennies a day you too can pay off a Florida attorney general.
Colbert wasn't the only late night television host to examine the Trump Foundation. Seth Meyers did so as well in
A Closer Look: The Trump Foundation
and tied it into other controversies surrounding Trump, his not paying contractors to his business and vendors to his campaign and his not releasing his tax returns.
Seth examines whether Republican presidential candidate Donald Trump's refusal to release his tax returns is related to controversy surrounding his personal foundation.
Meyers did a good job of closing the circle on this segment, so I'll follow suit by returning to Paul W., who concluded his blog entry on the two foundations with the rhetorical question, "And the Beltway media
only wants the CLINTON Foundation to close down
? Screw them." I second this emotion and see it and raise with this graphic.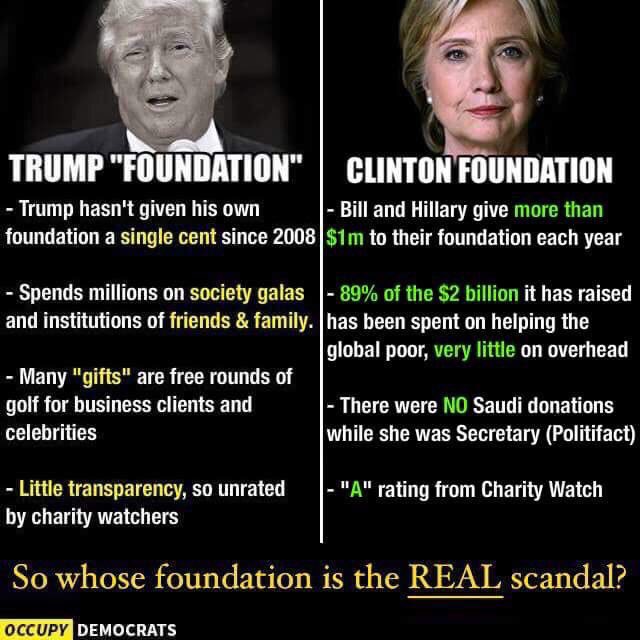 Stay tuned for the Sunday entertainment entry, which will be about the speculative fiction and music winners at the Creative Arts Emmy Awards last weekend.