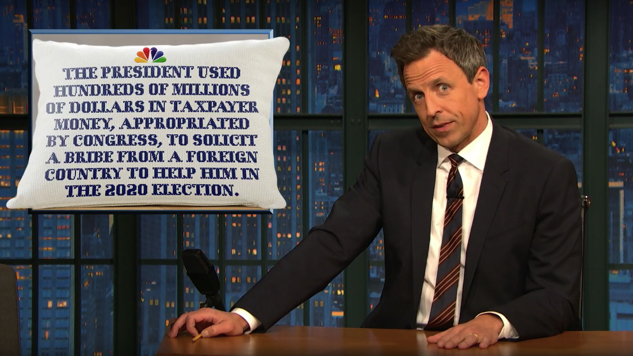 I concluded
Trevor Noah and Stephen Colbert react live to last night's Democratic debate
with a prediction.
I'm sure the other late night talk show hosts will have more to say about the debate tomorrow. In particular, I'm looking forward to what Seth Meyers and Jimmy Kimmel have to say, although they might do what both Noah and Colbert did — move on to impeachment.
That's exactly what happened in Late Night with Seth Meyers'
Second Week of Impeachment Testimony Ends with More Damning Evidence: A Closer Look
.
Seth takes a closer look at a week of impeachment hearings that have been nothing short of jaw-dropping.
As I foresaw, Meyers introduced the bit by mentioning the debate, then immediately moved to the
impeachment
hearing. He also largely ignored Fiona Hill. That was not the case with Stephen Colbert the same night. His monologue concentrated on impeachment and featured Hill prominently in
Stephen's Catchy Jingle Makes The Trump Impeachment Inquiry Easy To Understand
.
For some people, the impeachment inquiry has become an epic saga with too many characters to keep track of. That's why Stephen Colbert and Jon Batiste created this simple yet effective way to remember how the President landed in this mess in the first place.
That is a catchy song about
the phone call that could get Trump impeached
. Here's to hoping people find it as memorable as they found it funny.