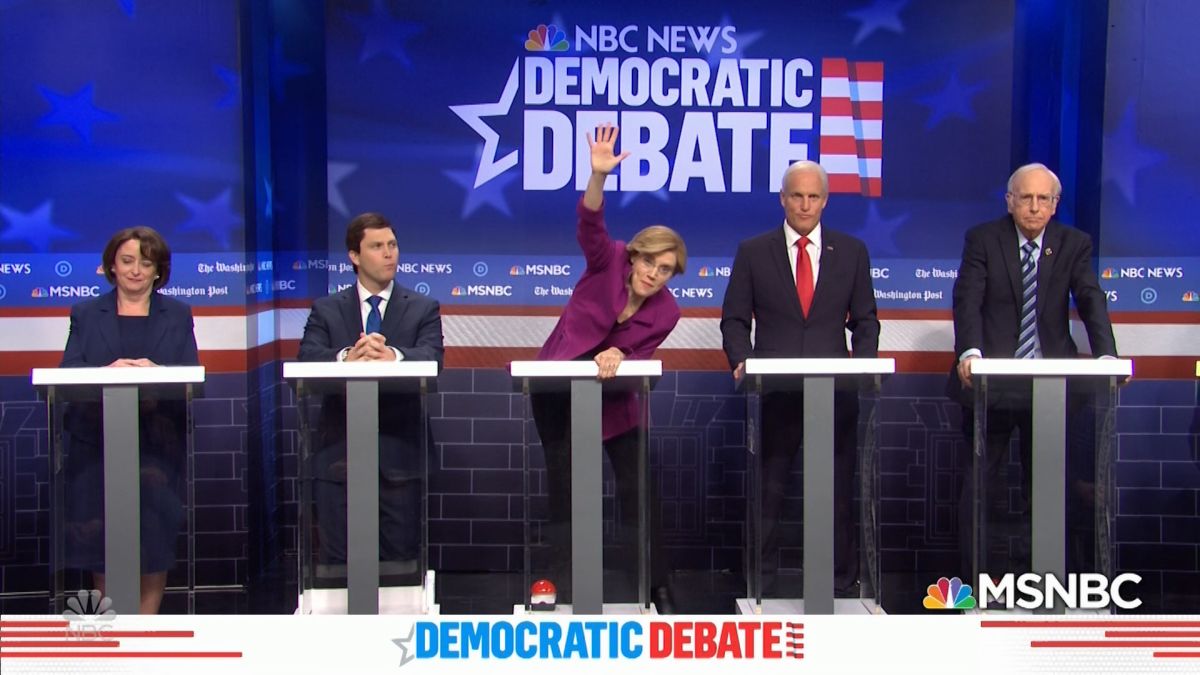 For this week's Sunday entertainment feature, I'm showcasing three clips from
SNL
about this week's political news, the
impeachment
hearings and
Wednesday's Democratic debate
. I begin the same way last night's show did, with
Trump Impeachment Press Conference Cold Open
, which is also the most viewed clip from last night's show..
President Trump holds an impromptu press conference outside the White House near a loud helicopter.
The comments to this clip are priceless:
"Alec Baldwin is a better Trump than Trump."
"Trump said windmills cause cancer but he stands next to a chopper everyday."
"'Well, I know him but I don't know him know him.' Trumpism, perfectly summed up."
"'There was no quid pro quo' is going to be the next 'I did not have sexual relations with that woman.'"
"Nowadays, you don't mock the president anymore, you just re-enact his words... :-) That's hilarious. And sad. So sad."
It is.
The next most viewed clip is
2020 Democratic Debate
with an all-star comedy cast.
Presidential candidates Andrew Yang (Bowen Yang), Pete Buttigieg (Colin Jost), Cory Booker (Chris Redd), Elizabeth Warren (Kate McKinnon), Amy Klobuchar (Rachel Dratch), Tom Steyer (Will Ferrell), Michael Bloomberg (Fred Armisen), Tulsi Gabbard (Cecily Strong) Bernie Sanders (Larry David), Joe Biden (Woody Harrelson) and Kamala Harris (Maya Rudolph) speak at MSNBC's 2020 Democratic Debate.
One of the best things SNL does is make fun of its parent company's other shows and channels. Also, of course
Michael
Bloomberg
would
show up
as
a party crasher with big gulp cups
. Considering that
he's refusing donations to his campaign
, he won't be able to make future debates any other way.
I bring this entry full circle by returning to the impeachment hearings with
Weekend Update: End of Impeachment Hearings
.
Weekend Update anchors Colin Jost and Michael Che tackle the week's biggest news, like Trump considering testifying in impeachment hearings.
And Bloomberg crashed this segment, too.
I like the news better when I can laugh at it. I think my readers do, too. Happy Sunday!