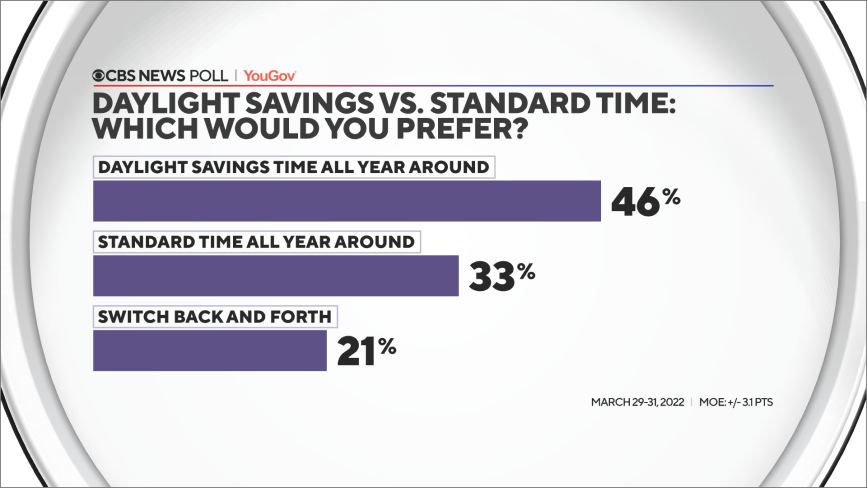 I closed
Fall back for the end of Daylight Saving Time even though it affects health and increases traffic accidents
by writing "Americans are getting tired of switching back and forth between Standard Time and Daylight Saving Time, having decided
Daylight Saving Time sucks
." WMTW-TV in Portland, Maine reported the depth of that dislike in
Majority of Americans want to do away with daylight saving time
.
A new poll finds a majority of Americans want to get rid of daylight saving time all together.
70% of Americans are tired of switching the clocks back and forth, while only 30% want to keep doing it. Americans don't agree yet on which time to stay on, Standard or Daylight Saving. However, that hasn't stopped states from trying to please their residents by stopping the
back-and-forth
. Unfortunately, it literally requires an act of Congress to finish the job. Follow over the jump for reports about three states that have voted to stop the twice-annual changeover and five more that are considering doing so.
First, CBS 8 in San Diego asked what happened to ending falling back in
Prop 7: What happened to staying on daylight saving time?
Almost a year ago Californians went to the polls and nearly 60% of voters said, yes – we should stop changing the clocks twice a year.
The voters spoke, but the state legislature hasn't acted yet. Even if they did, it would still require an act of Congress, as FOX 4 Now in southwest Florida found out when it asked
Florida passed a bill making daylight saving time permanent, so why are we turning our clocks back?
The problem is that even though the Florida legislature voted to stay on daylight saving time, it can't be enacted without congressional approval of the Sunshine Protection Act.
The same is true in Washington, which passed a bill to stop changing our clocks, as 4 News Now in Spokane reported in
Yes, we still have to change our clocks for daylight saving time... but that could end soon
.
Washington State legislators passed a bill earlier this year to permanently end daylight saving time, but here we are in November, and we're still making that switch.
Four other states are considering jumping off the carousel as well. Both North and South Carolina are among them, as WCNC asked in
Should the Carolinas stay on Daylight Saving Time year-round?
With this weekend's time change, lawmakers in North and South Carolina are pushing to eliminate time changes forever. They want each state to stick with Daylight Saving Time year-round.
Michigan's neighbor to the southeast is another, as WLWT in Columbus reported
Ohio bill aims to make daylight saving time permanent
.
As we look to "fall back" to standard time Saturday, lawmakers in Columbus are still mulling over Senate Bill 119.
Next, WJHL in Johnson City, Tennessee asked
Could this Sunday be Tennessee's last fall back from Daylight Saving Time?
Finally, KHOU 11 responded to a viewer in
Verify the vote: Daylight saving time
.
Will voters be able to change daylight saving time?
Sadly for Texans, the answer is no, at least this year.
Good luck to all of the states trying to remain on either Standard or Daylight Saving Time and stop changing their clocks twice a year. As I wrote in
Fall back tonight, even if it may not be good for you, either
three years ago, "I used to like Daylight Saving Time, but I'm beginning to wonder if the dozen states considering getting rid of it have the right idea." I'm now convinced they do.