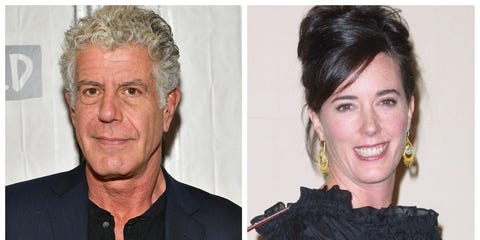 I got the shocking news yesterday —
Anthony Bourdain dies at 61 in apparent suicide
. Watch the ABC News report.*
The celebrity chef and TV host died of an apparent suicide while in France, according to CNN.
It turns out that Bourdain and Kate Spade are part of a trend, which WXYZ noted in
Anthony Bourdain's death raises new concerns about spiking suicide rate.
The recent deaths of Kate Spade and Anthony Bourdain are shining a light on the new suicide epidemic in the United States.
I appreciate both the local angle on Bourdain's connection to Detroit as well as placing his death in context as part of a larger trend.† In addition, the mention of his awards reminds me that I listed Bourdain's nominations and awards in
'Simpsons,' 'Westworld,' 'American Horror Story' among Golden Trailer winners
,
More nature and science at the Primetime Emmy Awards
,
"13th" vs. "O.J.: Made in America" plus other non-fiction political programs nominated at the Primetime Emmy Awards
, and
'Planet Earth II' wins two Emmy Awards
just last year and
'Orange is the New Black' and 'Cosmos' already big Emmy winners
from 2014. Here's what I wrote about him then.
The last show I'll mention is CNN's "Anthony Bourdain: Parts Unknown," which won for Informational Series or Special. I have a special fondness for Mr. Bourdain. Not only is he a great character who writes about food and is a fun host of shows about travel and food, but I've been told that I sound like him. I rather like that idea.
I'm sure I'll be writing about Emmy nominations for both Bourdain and "Parts Unknown" next month, just as I will for
Stephen Hawking
. Those will be bittersweet experiences.
Now, a moment of silence for the man whose voice will be heard no more.
Rest in peace.
*There is an even better
CBS This Morning
segment, but I'm not embedding it given the show's history of taking down the videos I use.
†All this reminds me that I haven't updated my readers on
U.S. life expectancy falls prompting Russian analogies
from 2016.
U.S. life expectancy fell a second consecutive year in 2016 and likely fell again in 2017
. The last time that happened in the U.S., it was because of the Spanish Flu during 1916-1918. I plan on writing about both the drop in life expectancy as well as the falling birth rate next week. Stay tuned.