As Catherine O'Hara's character Moira Rose on "Schitt's Creek" famously replied to "What's your favorite season?" "Awards!"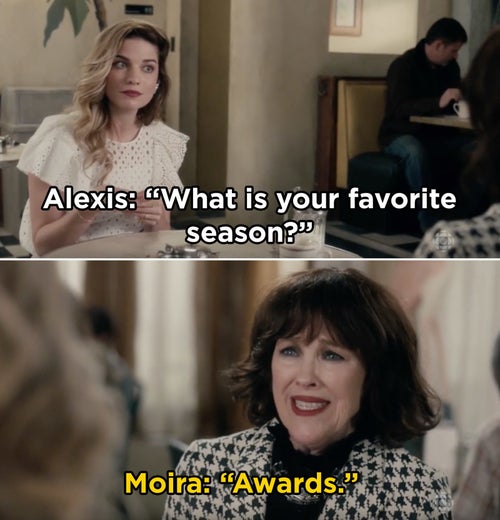 I've already covered the nominations for the
Golden
Politics, government, and diversity among movie nominees at the 2021 Golden Globes
and
the
Critics
Choice
Awards
. In addition, the nominees for the Saturn Awards, SAG Awards, WGA Awards, and Oscars have all been announced. I'll get to all of them, including the winners of the Golden Globes and Critics Choice Awards, but first I'm sharing the political nominations at the Golden Raspberry Awards AKA the Razzies from
Rotten Tomatoes
.
WORST PICTURE

365 Days
Absolute Proof
Dolittle
Fantasy Island
Music
The political movie here is the documentary "
Absolute Proof
," "MyPillow CEO Mike Lindell's film claiming a Chinese cyberattack 'flipped' the 2020 election." I hope it gets the same treatment as "
Hillary's America
," which won Worst Picture over "Batman V. Superman." It probably won't — both "365 Days" and "Dolittle" have more nominations and I think "365 Days" is the worse film — but "Absolute Proof" is my pick for worst political film of 2020 for no other reason than it perpetrates the Big Lie that the 2020 election was stolen. I find that actively harmful.
WORST ACTOR

Robert Downey, Jr. – Dolittle
Mike Lindell (The "My Pillow" Guy) – Absolute Proof
Michele Morrone – 365 Days
Adam Sandler – Hubie Halloween
David Spade – The Wrong Missy
Now for nominations of (bad) performers like
Donald J. Trump, Kellyanne Conway, and Melania Trump two years ago
. As much as I'm rooting for Lindell and Rudy Giuliani to follow in the footsteps of
Trump and Conway, who won worst acting awards
, Lindell, at least, is up against tough competition, Robert Downey, Jr. and David Spade for being big names in weak movies, Michele Morrone for being in a geniunely bad but popular movie, and Adam Sandler for being a perpetual target of the Razzies. It depends which variety of bad the Razzie voters want to recognize. As I repeatedly say about awards shows, electorates matter.
WORST SUPPORTING ACTOR

Chevy Chase – The Very Excellent Mr. Dundee
Rudy Giuliani (As "Himself") – Borat Subsequent Moviefilm
Shia LaBeouf – The Tax Collector
Arnold Schwarzenegger – Iron Mask
Bruce Willis – Breach, Hard Kill AND Survive the Night
Without doubt, "
Borat Subsequent Moviefilm
" is the best movie of the bunch with
two Oscar nominations, two Golden Globe wins, and more than 80 other wins and nominations
. Its only Razzie nominations are this one and the next, demonstrating how stupidly Giuliani acted naturally. I'll be a good environmentalist and recycle what
I wrote last October about his performance and that of the star of the film
.
Rudy Giuliani really should have known better. I think Sasha Baron Cohen is mean-spirited prankster who doesn't like American conservatives and he gives that side of him full rein when he's Borat. Mind you, I think he's also hilarious, but his wit has barbs and a sharp point that is aimed at his interview subjects, particularly ones like Rudy.
That written, I have no sympathy for Giuliani and hope he "wins." I think he has a better chance of doing so than Lindell in his category, even against this field of famous actors in inferior movies.
WORST SCREEN COMBO

Maria Bakalova & Rudy Giuliani (Yes, That Really IS Rudy Giuliani!) – Borat Subsequent Moviefilm
Robert Downey Jr. & His Utterly Unconvincing "Welsh" Accent – Dolittle
Harrison Ford & That Totally Fake-Looking CGI "Dog" – Call of the Wild
Lauren Lapkus & David Spade – The Wrong Missy
Adam Sandler & His Grating Simpleton Voice – Hubie Halloween
Maria Bakalova's performance earned an Oscar nomination, so it's not her fault that she's nominated here; it's Giuliani's. That written, while I want Giuliani to win this award as well, I'm not sure Bakalova deserves it. Still, she's the kind of actress who would make a great hilarious show of accepting and thanking her co-star. That would be worth seeing.
By the way, 2020 has already won a Razzie for "worst year ever." It deserves it.