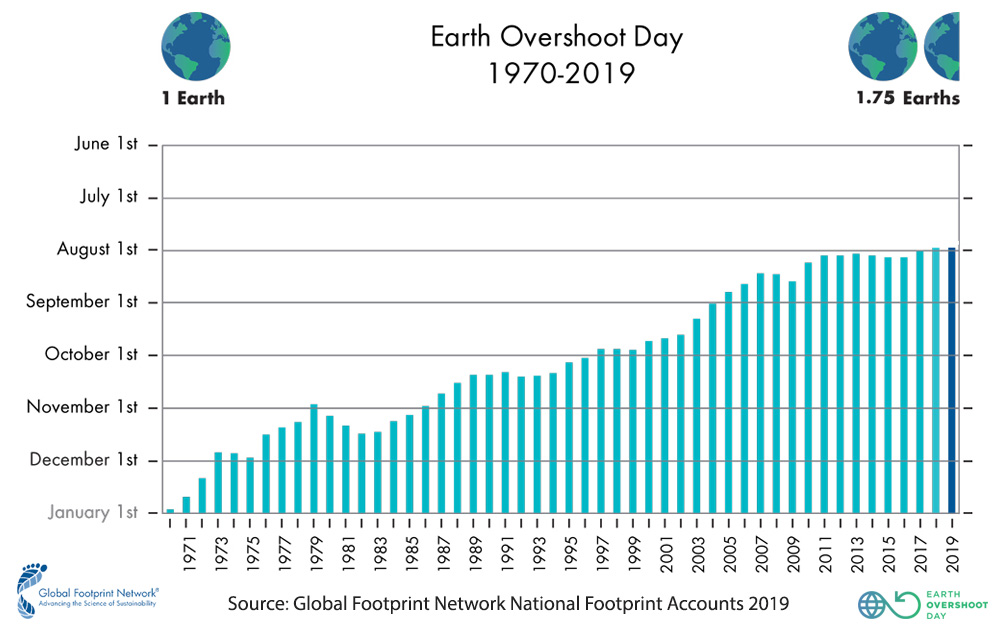 Last year, I wrote
Earth Overshoot Day 2018 is the earliest ever
. That was on August 1. Today is Earth Overshoot Day 2019 and it's three days earlier on July 29. That's moving the date in the wrong direction.
For a visual illustration of what the day means, watch
Earth Overshoot Day
from the WWF.
This year, Earth Overshoot Day falls on 29 July. It means we've already used a whole planet's worth of resources this year. We are over overfishing, over harvesting, over consuming and over polluting more than our planet can sustain.

We can all make a difference to move the date for Earth Overshoot Day and create a sustainable future.

Find out what your ecological footprint is and how you can reduce it today.
This was my footprint last year.
I calculated my environmental impact at Global Footprint Network and found out that if everyone followed my lifestyle, humanity would need 3.8 planets and that my personal Earth Overshoot Day would be April 5th. Eep! That's the bad news.

The good news is that I'm less of a resource hog and waste producer than the average American, whose lifestyle would require 5.0 planets to sustain it if all 7.6 billion of us followed it. I require 6.6 global hectares to support me, while the average American requires 8.22.
This year, I found out that if everyone lived like me, humanity would need 3.5 planets and that my personal Earth Overshoot Day would be April 14th. Progress! I'm not at my current goal of having the impact of the average German, which is 3.2 Earths, but I'm getting there.
Last year, I found out one of the things that increased my footprint was my diet. I was eating too much meat, which meant a full two hectares to feed me. I cut down a bit on the meat I ate and it made a difference. I now require 1.9 hectares for my diet. Again, progress. The Global Footprint Network has more tips in
Food and the Ecological Footprint
.
How much does food contribute to our Ecological Footprint? Did you know food recommended by nutritionists are also better for the planet? Find out what you can do to reduce our food Footprint in this fun animated video.
Here's to eating more locally produced plant-based food and less meat to make headway on my progress to having a smaller footprint and moving the date in the right direction!