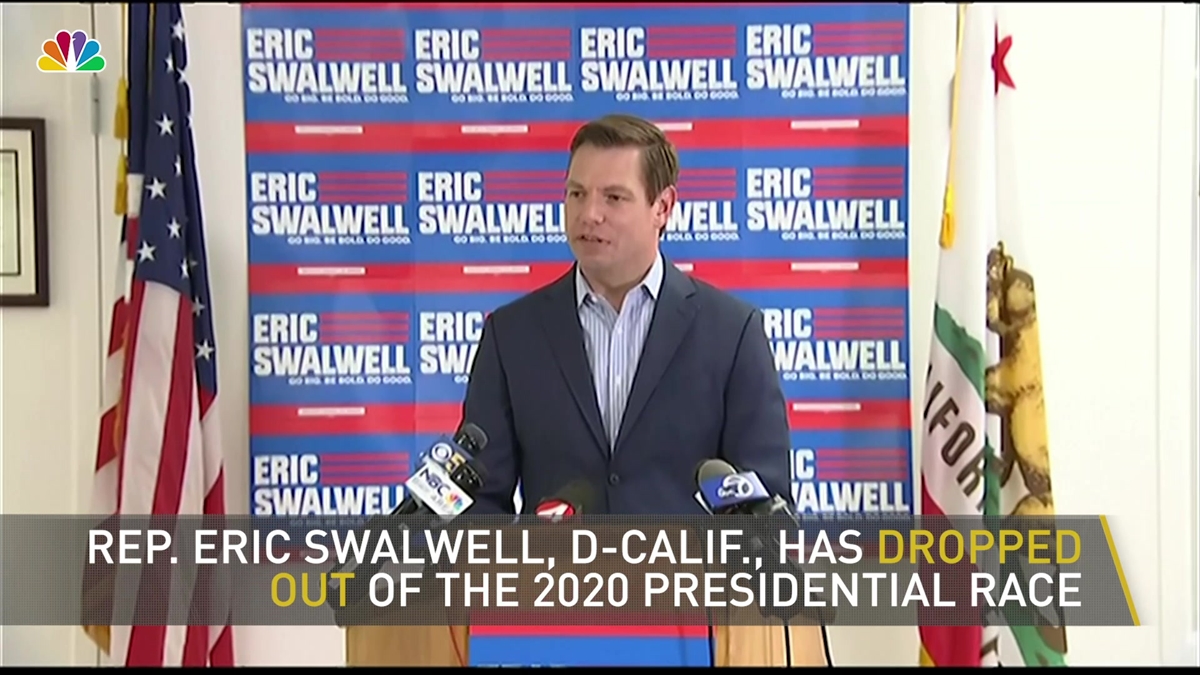 This election cycle's edition of "
The
Hungry
for
Power
Games
" has claimed its first tribute. CBS News reports
California Rep. Eric Swalwell drops out of presidential race
.
California Rep. Eric Swalwell has dropped out of the race for the Democratic nomination for president. He spoke about the decision at a press conference in Dublin, California.
This news did not come as a complete surprise to me, as FiveThirtyEight asked last week
Have We Seen The Last Of Eric Swalwell?
The latest: Steve Bullock has inched ahead of Eric Swalwell in the race to make the second round of presidential primary debates on July 30-31.

As we wrote last week, Bullock and Swalwell were tied for the 20th and final spot in the debate. Based on the first tiebreaker — the average of each candidate's top three qualifying polls — the candidates were tied at 1 percent. And based on the second tiebreaker — the total number of qualifying polls in which each candidate earned at least 1 percent in support — Bullock and Swalwell each had three. But there was always a question of how one pollster's surveys would be counted.

Suffolk University — working in partnership with USA Today — presents two sets of percentages in its survey reports, one rounded to the nearest whole number and one rounded to the nearest hundredth of a percent. For candidates struggling to reach 1 percent, knowing which set of numbers the DNC was going to count has huge implications. For instance, Suffolk's June national poll had Bullock at 0.52 percent but, rounded up, had him at 1 percent. Now we know the DNC has decided to use the whole numbers for debate qualification.

In an email to the Democratic candidates on Tuesday evening, the DNC said that it had decided to count the rounded numbers for debate qualification. With that decision, Bullock now has four qualifying polls, putting him one ahead of Swalwell and in the debate — for now.
So Swalwell lost the polling tiebreaker. What about the donor criterion? FiveThirtyEight wrote about that, yesterday when it explained
Why Eric Swalwell's Campaign Failed
.
We don't yet know how Swalwell performed on the fundraising front — second-quarter reports are due on July 15 — but we do know that he didn't have 65,000 individual donors, one of the thresholds for qualification for both the first and second debates.
Furthermore, his backup plan was in danger as well.
Another reason he may have dropped out early: Swalwell is already facing a Democratic challenger for his House seat. The congressman had previously said he wouldn't run for both president and Congress at the same time, and he still had plenty of time to decide if he would seek reelection to Congress. (California's candidate filing deadline is Dec. 6.) But had Swalwell continued his long-shot presidential bid, he might have endangered his chances of retaining his House seat. His congressional opponents could have campaigned at home in California while he was off trying to make inroads in places like Iowa and New Hampshire. But now Swalwell can turn to defending his spot in Congress, from which he could still launch a future bid for higher office, if he wants.
I think Swalwell made the right decision, which is more than I could say about his attempt to get attention at last month's debate by demanding that Joe Biden "pass the torch." That didn't work out so well for him.
Now that Swalwell has dropped out, it's time for me to retire the following graphics and memes.
First, Swalwell's Voteview ideology scores from
Senators and Representatives running for the Democratic nomination are drifting to the left as they campaign
.
Next, Swalwell's ideological position at On The Issues from
OnTheIssues.org's take on the Democratic presidential candidates from left to center
.
It was time to make a new graphic anyway, as most of the candidates have moved left since I made that one.
Finally, the drink I recommended for him in
Drinks for the Democratic debates, Part 2
.
When asked about his favorite comfort food, Eric Swalwell told Eater, "It's really comfort coffee. My favorite coffee is a mocha." Tipsy Bartender has just the drink, Morning Coffee.
That will certainly make one a wide-awake drunk!
Toast Swalwell farewell with a Morning Coffee!