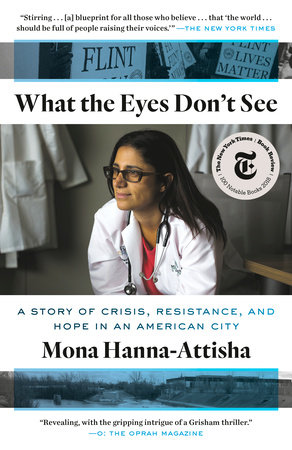 While I've written a lot about the
Flint
Water
Crisis
since January 2016, it turns out I've never mentioned Mona Hanna-Attisha, the Flint pediatrician who discovered the high levels of lead in her patients. That's a serious omission. Since I just saw her give an interview and question-and-answer session yesterday about her book,
What the Eyes Don't See
, today is the perfect opportunity to feature her on my blog. Watch
Exposing the Flint water crisis
from CBS Sunday Morning.
It's the age-old question: Is the glass half empty, or half full? For the people of Flint Michigan, it's far from being a settled issue. Some three years after the city's water crisis first made headlines, many people still don't believe their tap water is safe. Correspondent Martha Teichner talks with Dr. Mona Hanna-Attisha, the whistleblower who alerted Flint residents to the dangers posed by the very water they drank, and to activists who discuss the legacy of the Flint water crisis: A loss of trust.
That's a very good summary of the state of the crisis as of a year ago. Dr. Hanna-Attisha updated the attendees of her talk yesterday that the efforts to replace Flint's lead pipes are continuing and the majority of the pipes have been replaced. That's good news, although it doesn't deserve me posting Professor Farnsworth just yet.
I'm sure I'll write more about the Flint Water Crisis in the future, including that
promise
to "write about [the PBS 'Nova' episode] 'Poisoned Water'...in a future post" I repeated in
CNN's 'Dirty Water: Danger from the Tap' on World Water Day
. I'll get to it. In the meantime, tomorrow is
Food
Day
, so expect another post about
'Food, Inc.'
Stay tuned.