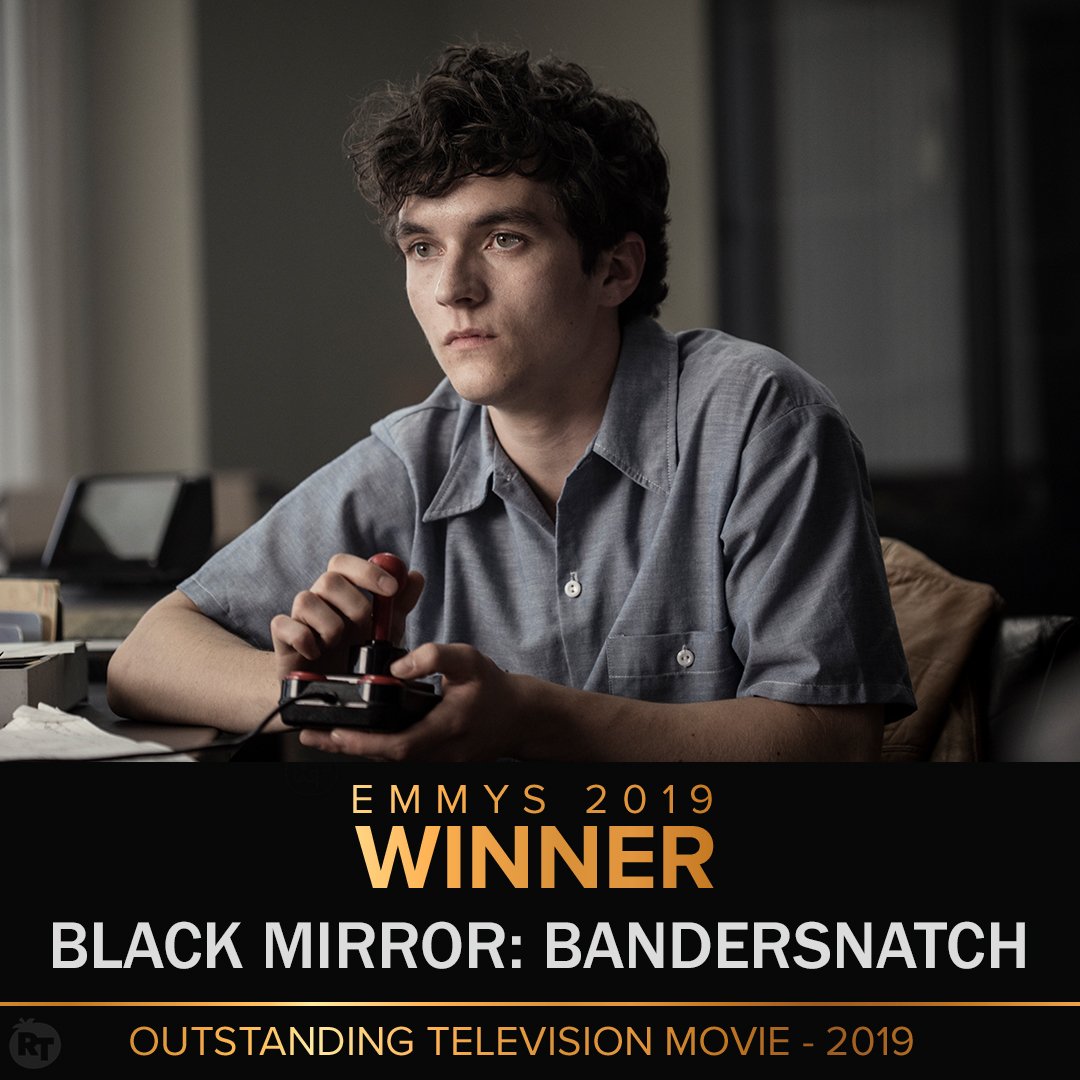 "Stay tuned for more Emmy winners," I wrote at conclusion of
Watch 'Saturday Night Live' have fun with impeachment after winning six Emmy Awards
. On that note, it's time to follow up on
The 2019 Outstanding Television Movie nominees examine politics, technology, and show business
.
After looking at science, diversity, and political satire, I finally get to write about an Emmy nominee that is speculative fiction, "Black Mirror." It's the one I'm rooting for, as it's both the two-time returning winner as well as the current holder of a Golden Coffee Cup for television as Best Miniseries or Movie for Television about Politics and Government. It's also the only nominee to win an individual achievement award at the Creative Arts Emmys, Outstanding Creative Achievement In Interactive Media Within A Scripted Program.
The interactivity of "Black Mirror: Bandersnatch" played a key role in its coverage, beginning with
'Bandersnatch' Wins Outstanding Television Movie at 2019 Emmy Awards
from Entertainment News Bytes Network.
'Bandersnatch' Wins Outstanding Television Movie at 2019 Emmy Awards The episode of Netflix's hit series 'Black Mirror' beat out HBO's 'My Dinner with Herve' and Amazon's 'King Lear.' The choose-your-own-adventure style sci-fi thriller is the first interactive Netflix film geared towards an adult audience. Set in London during the 1980s, 'Bandersnatch' takes its title from a choose-your-own-adventure book over which the main character, Stefan, is obsessed. A developer in the early days of gaming, Stefan dreams of adapting the book into a subversive video game. 'Bandersnatch' allows the viewer to choose different paths for Stefan to take as he teeters on madness while working on the game. The movie has five different endings. 'Bandersnatch' is directed by David Slade and stars Fionn Whitehead and Will Poulter.
For an obvious clickbait channel, Entertainment News Bytes Network did a good job on this clip. I might use their videos for future entries.
Since I could not find a video, official or otherwise, of the winners actually accepting their award onstage, I will have to be satisfied with two interviews of the winners backstage. First, The Hollywood Reporter's
Emmy Winners for 'Black Mirror: Bandersnatch' Full Press Room Speech
.
'Black Mirror: Bandersnatch' won for Outstanding Television Movie at the 2019 Emmy Awards. Watch their full press room interview here!
That's the same kind of wry commentary about current events that Charlie Brooker gave when
'Black Mirror' USS Callister won Outstanding Television Movie last year
. As for his answer to the question about interactivity, it reminds me that
the "Clue" movie had three endings
.* I think that a remake of "Clue" as an interactive movie might be worth doing.
IMDB gets the last video on my blog tonight with
"Black Mirror: Bandersnatch" Breaks New Ground With Emmy Win
.
#Bandersnatch wins! Executive Producer Annabel Jones, writer Charlie Brooker, and producer Russell McLean don't know why #BlackMirror keeps winning Emmys, but they'd be happy for you to tell them. The winners also discuss the joy of the first interactive feature win for Outstanding Television Movie. #Emmys
Congratulations to the producers, writer, and director of "Black Mirror" for their string of Emmy wins. They are also the current holder of
the 2017-2018 Golden Coffee Cup for Best Miniseries or Movie for Television about Politics and Government
. That may be at risk later this year, however. As I wrote in August, "Watch for 'Black Mirror' to return as a nominee for next season. My pick for its toughest competition is 'Chernobyl.'" Speaking of which,
"Chernobyl" and the rest of the Outstanding Limited Series
winners should be the subject of the next installment of this series. Stay tuned.
*My date and I saw the lamest ending possible; the butler did it. It was so lame that
Wikipedia
claims it was "unused." Actually, it was used, but did not make the video. No loss.
Previous entries in this series.