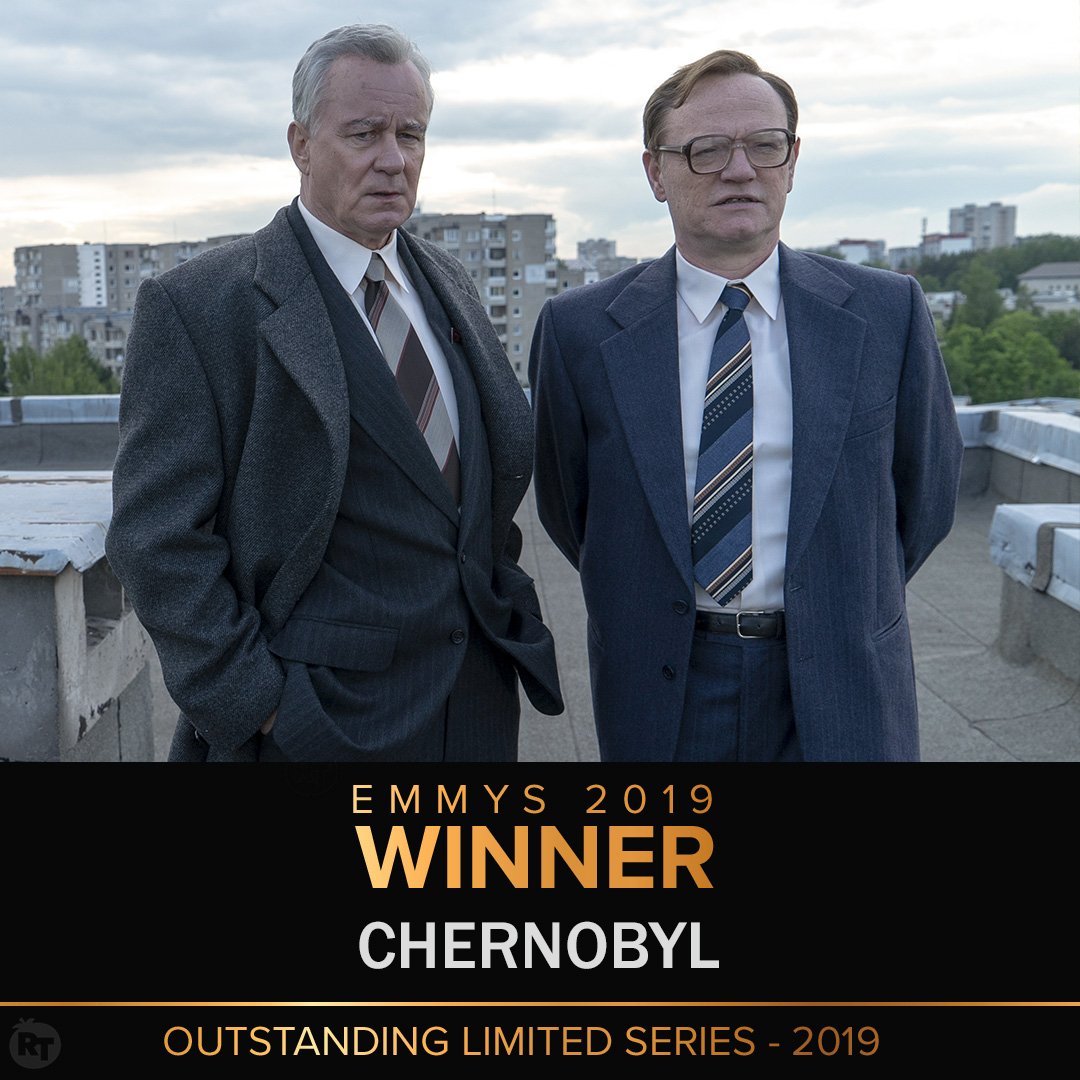 I explained the common theme among most nominees for
Outstanding Limited Series
along with my opinion of their chances last month.
Four of the five nominees depict failures at some level of government, ranging from the catastrope of "Chernobyl" through the miscarriage of justice in "When They See Us" to the incompetence in "Escape at Dannemora" and "Sharp Objects," while the fifth, "Fosse/Verdon," is about show business. The most nominated with 19 nominations as well as the most winning so far with seven Emmy Awards is "Chernobyl," the fictionalized story of the meltdown of the nuclear reactor, with 19 nominations. "Fosse/Verdon" is the next most nominated with 17 nominations and the second most winning with three statuettes, followed by "When They See Us" with 16 nominations and one trophy. "Escape at Dannemora" has twelve nominations while "Sharp Objects" has eight nominations; neither has any wins so far.

My personal favorite is "Sharp Objects," but I think its best chances are for Outstanding Lead Actress and Outstanding Supporting Actress. It's not going to win this category. Instead, I think this contest is among the three nominees that already have awards, "Chernobyl," "Fosse/Verdon," and "When They See Us" with "Chernobyl" favored. However, I think it will be close, as "When They See Us" is just as well acted and about an issue closer to home, literally, while "Fosse/Verdon" enjoys the advantage of being about entertainment, albeit musical theater, not movies and television. All things being equal, that would give it a good chance of upsetting the other two leaders, but I'm not sure all things really are equal.
I was right; things weren't equal.
Deadline Hollywood reported
"In the Limited Series race,
Chernobyl
prevailed, taking three trophies including the top prize." Watch
'Chernobyl' Wins Outstanding Limited Series at 2019 Emmy Awards
.
The HBO miniseries took home the coveted award on Sept. 22 at the 71st Primetime Emmys. The show beat out fellow nominees 'Escape at Dannemora,' 'Fosse/Verdon,' 'Sharp Objects' and 'When They See Us.' While accepting the award, show creator Craig Mazin spoke about how he hoped the show would remind people of "the value of truth."...'Chernobyl' was also nominated in five other categories and won best writing for a limited series and best directing for a limited series. The five-part series debuted on May 6 and concluded on June 3, where it quickly became IMDb's top-ranked TV show of all-time on June 5.
IMDB examined two parts of the story in the description above. Watch
Jared Harris and Stellan Skarsgaård of "Chernobyl" Celebrate Their Emmys Victories With Creators
.
#Chernobyl co-stars #JaredHarris and #StellanSkarsgård, along with writer Craig Mazin and series director Johan Renck, talk about how their Emmy wins are a celebration of their entire cast and crew.
I was skeptical about Renck's chances, but directing the best limited series put him ahead of Ava DuVernay, who I thought had a good chance. On the other hand, I was rooting for "Chernobyl" to win the writing award, so I got my wish.
The next video begins with "Chernobyl" becoming the top-rated TV show on IMDB and delves into the premise of the show,
How "Chernobyl" Splits Atomic Facts from Fiction | IMDbrief
.
On this IMDbrief, we'll split atoms of fact from fiction in the stunning HBO miniseries, "Chernobyl.
That segment really helped me understand why and how "Chernobyl" came to be, so thank you, IMDB.
I expect lots more awards for "Chernobyl," including Golden Globes, Critics Choice Awards, and all the various guild awards, followed by
the EMA Awards
to finish out its awards show run. However, the next honors may come from Coffee Party USA, as I expect "Chernobyl" to be nominated for
the Golden Coffee Cup for Best Miniseries or Movie for Television about Politics and Government
when I run the awards for the 2018-2019 season. "
Black Mirror
" has serious competition. I'm looking forward to it already.
Follow over the jump for the rest of the limited series winners.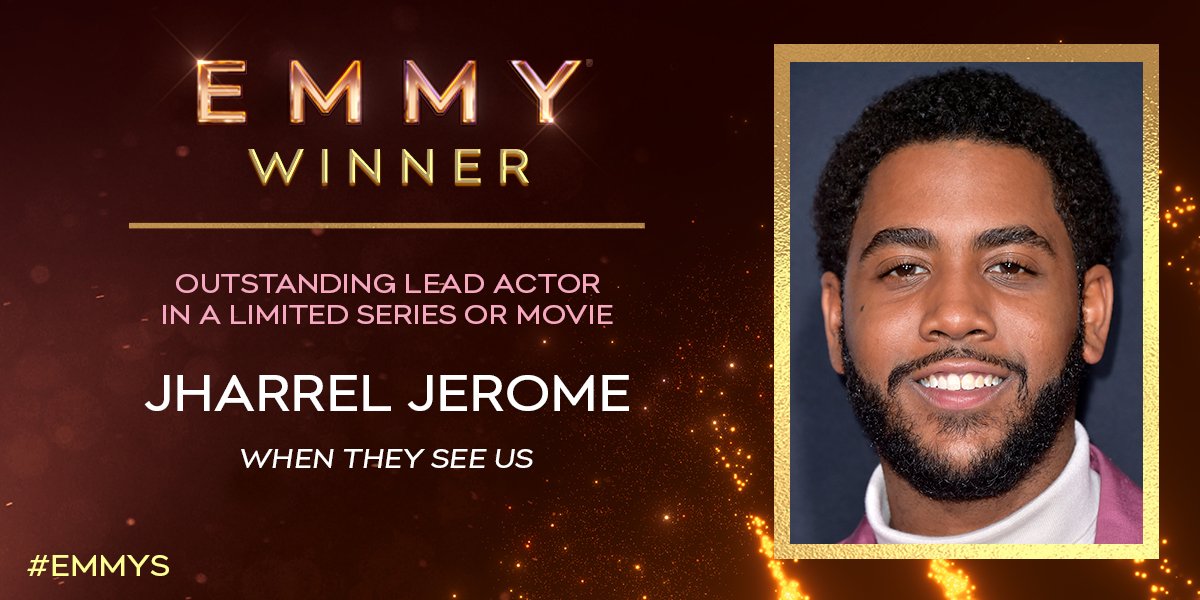 I completely missed the winners of the acting awards for limited series, beginning the first award.
The Nominees for Outstanding Lead Actor in a Limited Series or Movie are Hugh Grant, Jared Harris, Benicio del Toro, Sam Rockwell, Mahershala Ali, and Jharrel Jerome.

This category features a match-up between two Oscar winners, Sam Rockwell and Mahershala Ali. I think they are the favorites with a slight edge to Ali, who has won two Oscars to Rockwell's one. This is also his second Emmy nomination to Rockwell's first.

By the way, this is one of two nominations for another limited series, "A Very British Scandal." This is also about a failure of government, or at least politics, so it fits the overall theme.
Nope, it was Jharrel Jerome winning the only trophy for "When They See Us" at the Primetime Emmy Awards. Just the same, congratulations!
I blew the next one, but not as badly.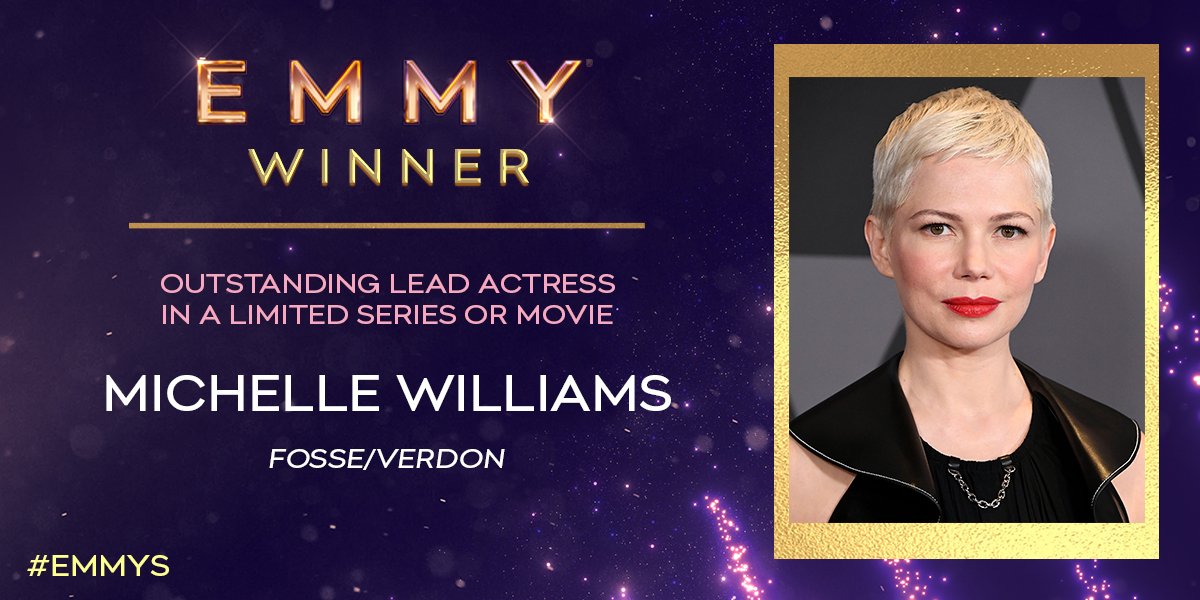 The Nominees for Outstanding Lead Actress in a Limited Series or Movie are Patricia Arquette, Michelle Williams, Amy Adams, Joey King, Niecy Nash, and Aunjanue Ellis.

This is another category featuring Oscar nominees and winners. Amy Adams is my personal favorite who has been nominated several times for an Oscar but never won. She's competing against Patricia Arquette, who has won an Oscar. Furthermore, both are contending with a very strong field including the Television Critics Association's choice, Michelle Williams from "Fosse/Verdon," who won Individual Achievement in Drama. Any one of them could win along with Joey King for "The Act."
The Television Critics Association Award winner repeated at the Emmys. Congratulations to Michelle Williams for "Fosse/Verdon." I would have been very surprised if a show about show business went away from these awards empty-handed.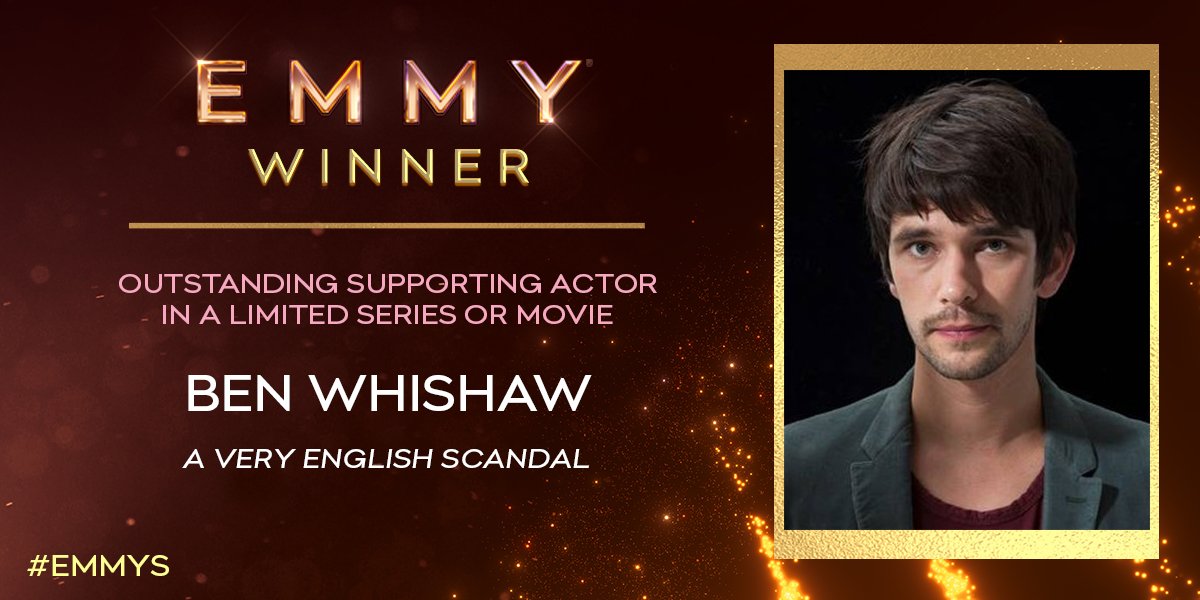 The Nominees for Outstanding Supporting Actor in a Limited Series or Movie are Ben Whishaw, Stellan Skarsgård, Paul Dano, Michael K. Williams, John Leguizamo, and Asante Blackk.

The biggest names here are Stellan Skarsgård and John Leguizamo, but I'm not sure they're favored. If it were up to the fans who responded in the comments, I think Asante Blackk could win. However, this is not the People's Choice Awards, where they would be voting. Instead, it's the entertainment industry professionals, so I think it will be one of Skarsgård and Leguizamo.
Surprise! Ben Whishaw won, an actor I didn't even mention as a possibility. At least he won an Emmy for "A Very English Scandal," which didn't earn a nomination for Outstanding Limited Series, although I'll be sure to include on the eligible list for the Golden Coffee Cups. In the meantime, congratulations!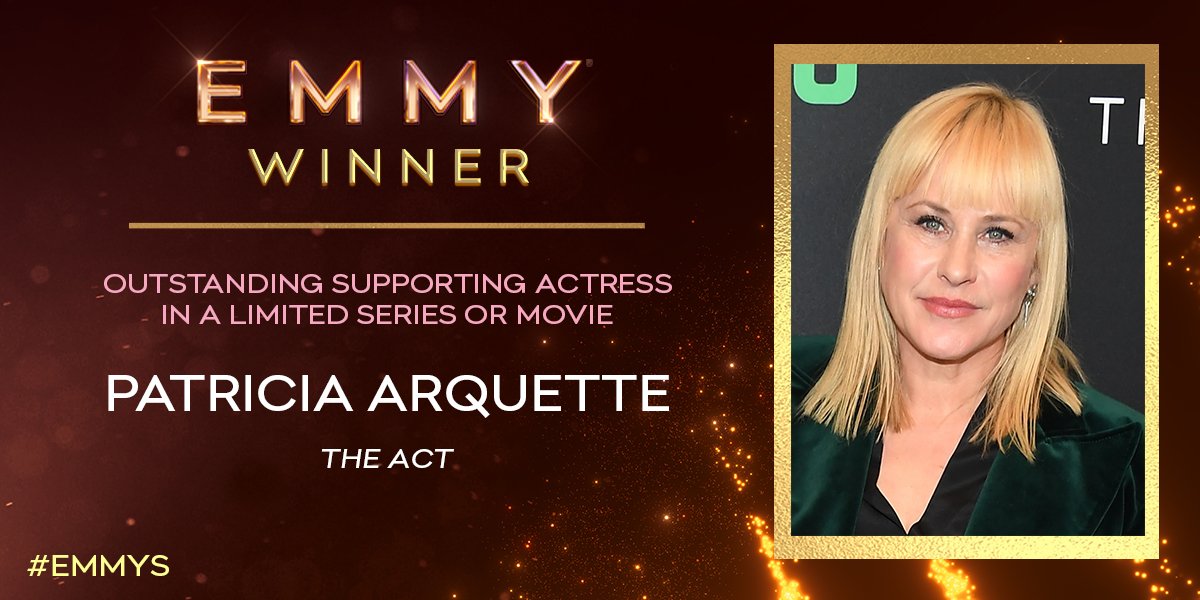 Patricia Arquette has a second nomination for "The Act," where the clip shows her as a stage mother of sorts who projects her illness on her child. One of the plot twists of "Sharp Objects" is that Patricia Clarkson's character has the same flaw and does the same to her daughters. Emily Watson's character is more admirable as the Soviet physicist in "Chernobyl." I'd say she would be favored on her performance alone, but she's probably not as well known to the Emmy electorate as Vera Farmiga, who plays the prosecutor in "When They See Us." Too bad, as she is probably the most heroic of the field.
Patricia Arquette is an Oscar winner, so I shouldn't have been surprised. At least she was the first nominee I listed. Congratulations!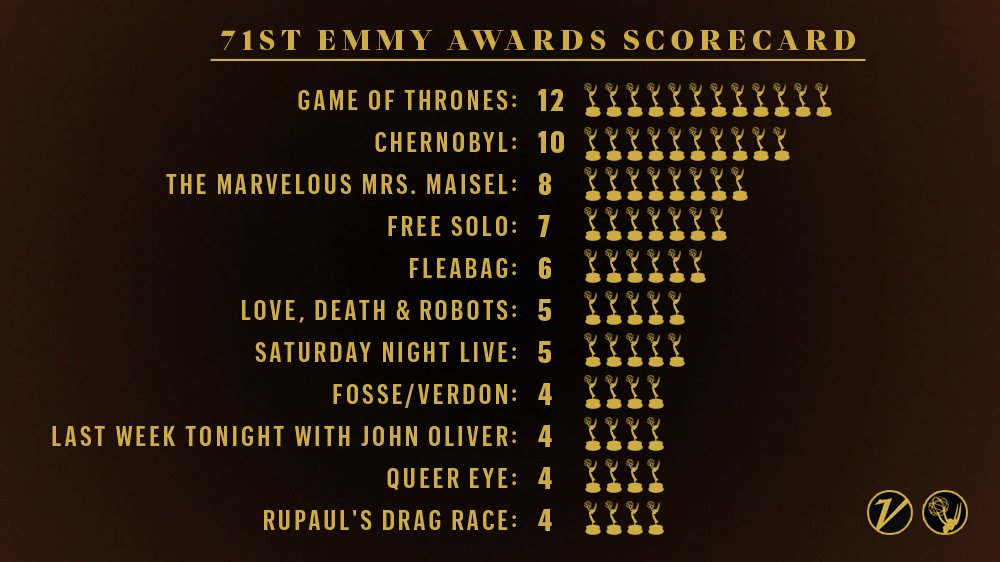 The graphic above shows that "Chernobyl" was the second biggest winner at the Emmy Awards with ten trophies overall. As a reminder, here are the awards won by limited series at the
Creative Arts Emmy Awards
.
"Chernobyl" is already a big winner with seven awards, Outstanding Sound Mixing for a Limited Series or Movie, Outstanding Production Design for a Narrative Period or Fantasy Program (One Hour or More), Outstanding Special Visual Effects In A Supporting Role, Outstanding Single-Camera Picture Editing for a Limited Series or Movie, Outstanding Music Composition for a Limited Series, Movie or Special (Original Dramatic Score), Outstanding Sound Editing for a Limited Series, Movie or Special, and Outstanding Cinematography for a Limited Series or Movie. That places it second to only "Game of Thrones."

The awards for "Fosse/Verdon" include Outstanding Makeup for a Limited Series or Movie (Non-Prosthetic), Outstanding Hairstyling for a Limited Series or Movie, and Outstanding Music Direction. Considering that it's about show business, those are the right awards for it.

The strength of the nominated performances in "When They See Us" shows that it deserved Outstanding Casting for a Limited Series or Movie. The show has seven acting nominations. Wow!
Once again, congratulations to all the winners!
Speaking of big winners, "
Game of Thrones
" took home the most Emmy Awards with a full dozen. I'll see if I can manage to write up its wins as well as those of the other dramas tomorrow. Stay tuned.
Previous entries in this series.